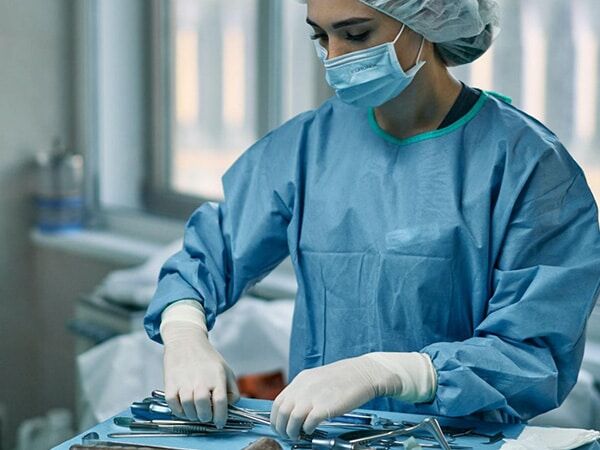 For many years, medical personnel has entered operating rooms using surgical caps for doctors. These surgical caps are also known as scrubs, scrubs, or scrubs hats. The primary function of these caps is to hold and cover the hair during operations or surgery.
These surgical hats work similarly to hand gloves in keeping the operating area clean and the surgical sites free of contamination. Medical professionals and, in some cases, even the patient must wear one. Medical professionals always wear scrub caps to cover the scalp, hair, and ears to prevent shedding hair or dead skin. It protects the patients from infection.
To prevent the shedding of dead skin cells and hair and protect the patients undergoing surgery from infection, a head cap must be worn to cover the scalp, ears, and all of the hair on the head. These disposable and Kemei disposable medical supplies offer excellent fluid protection and defense against foreign objects; they are also made of top-class materials and stay for a long time.
Despite appearing to be a straightforward medical accessory, doctor surgical caps are vital when doing surgery. One such type is a bouffant surgical cap, which gives a lot of extra area for people with exceptionally long or thick hair to keep their strands securely fastened.
What Is a Surgical Bouffant Mop Cap?
Bouffant mop caps are surgical caps that get their name from their puffy appearance. Usually, it is fastened with an elastic band around the head to ensure complete safety. These caps are intended for use in settings with strict controls over the risk of contamination, such as hospitals, laboratories, clean rooms, etc.
The lightweight and airy design of the headwear allows for all-day comfort. The cap's purpose is to keep pollutants and loose hair out. Due to the elastic band, It fits closely around the hairline and entirely encloses the hair. In fact, not only that, the disposable surgical cap manufacturer produces top-notch bouffant caps that can be used in pharmaceutical, medical, and other fields that demand protective headgear, including the food business.
For patient safety and infection prevention, hospitals must maintain a clean environment; PPE kits are vital in facilitating this. Aside from disposable hair net caps, surgical gloves (Knowledge: How To Put On And Remove Surgical Gloves) are essential safety gear. During medical operations and examinations, medical gloves are used to prevent patients and medical professionals from contracting an infection. That is why it becomes vital that the surgical gloves manufacturer provides reliable surgical gloves of the highest quality.
What Are Surgical Caps Called?
The headgear worn by doctors and surgeons in operating rooms is referred to as surgical caps. However, they are known by other names, too, such as surgical hats, skull caps, scrub caps, and bouffant caps. They serve as the initial barrier against contamination as they reduce the possibility of hair or other objects contaminating a clean medical setting. Since the cloth surgical head cap must be washed before every use, disposable surgical caps are the most popular as they provide the highest quality control.
Why Surgical Bouffant Cap Is So Important
Because hair can hold bacteria, patients may more likely to develop infections if a surgeon leaves any of their hair or ears exposed. To keep their hair contained and stop skin cells and hair from causing contamination in the surgical site, the doctors, nurses, and staff members wear scrub caps. Here surgical bouffant cap plays a vital role because it securely covers the hair with its elastic band. It is one of the best surgery caps for long hair.
There are two main reasons why bouffant hair nets are critical.
Since there is a possibility that the surgeon's hair being pulled or cut by surgical tools occurs frequently, a bouffant surgeon's hair cap will tightly secure the hair and keep it intact.
Also, it ensures the patients' safety as hair has the potential to contaminate the operating room's sterile environment or the patient's exposed body.
Therefore, surgical caps serve a dual purpose: they guard against hair damage and protect against contamination of the sterile area. As a result, it is recommended—and in many institutions, even required—that surgeons and other medical personnel wear bouffant surgeon head caps when operating.
Materials Of Medical Bouffant Cap
Surgical caps are generally made of polypropylene, which is a perfect material for surgical bouffant caps because it is a lightweight, snug-fitting fabric. This material easily secures the hair and helps prevent infections. The most common materials used to make head coverings are cotton, nylon, spun-bond polypropylene (SBPP), and spun-bond meltdown spun-bond (SMS). SBPP disposable surgical caps add lightness, breathability, and flexibility to products. The best surgical caps and hats for long hair are created entirely from hypoallergenic materials.
How To Wear A Disposable Mop Cap Correctly?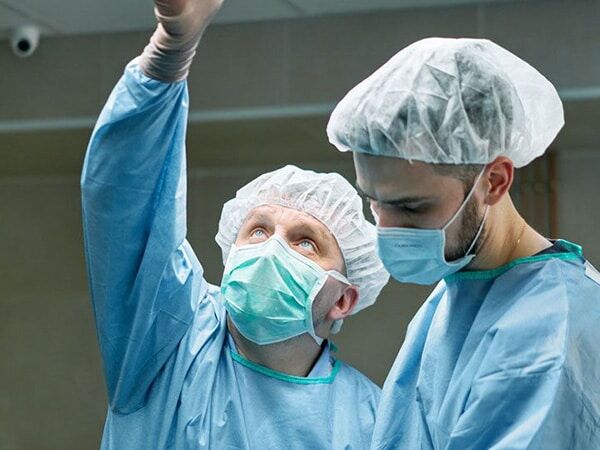 A disposable surgical cap provides a two-way barrier of safety and protection for both patients and medical personnel. It's crucial to put on the cap properly for optimal protection. To prevent hair from coming out when wearing a bouffant cap, first, extend the folded bouffant mop cap. After that, cover the hairlines correctly from the front and back and the area above the ears.
The steps to correctly wearing a surgical cap are listed below.
The first step is to pick the correct size. The surgical caps come in S, M, L, and XL sizes. So, choosing the right size ensures that the hair and hairline are entirely covered.
The bouffant cup has a tight elastic band, so the next step is to place the band around the hairline.
If the hair is long, before wearing the cap, one should tie their hair and then secure the cap.
Disposable surgical caps have two ends for the closure. So, one should place these ends on either side of the ear and not on the forehead or other parts.
Best Surgical Bouffant Caps For Surgeons
It's crucial to get the proper surgeon hair covers. An ideal option is a bouffant surgical scrub hat for long hair, thick hair that has a lot of volume, for instance. Disposable scrub hats are the best option if someone plans to use them once.
Disposable bouffant cap: Bouffant surgical caps resemble an oversized shower cap or a chef's hat that has been flattened. This surgical cap is ideal for people with thick hair since bouffant hats provide enough room to fold in all the hair comfortably.
Disposable Surgical caps: Surgical caps are made of cloth or nylon so one can wash and use them again. However, various disposable surgical caps are available for those working in highly infectious or harsh circumstances where it may not be ideal to reuse the surgical cap. As a result, a disposable surgical hair cover is the best option if one works in settings with a high risk of infection.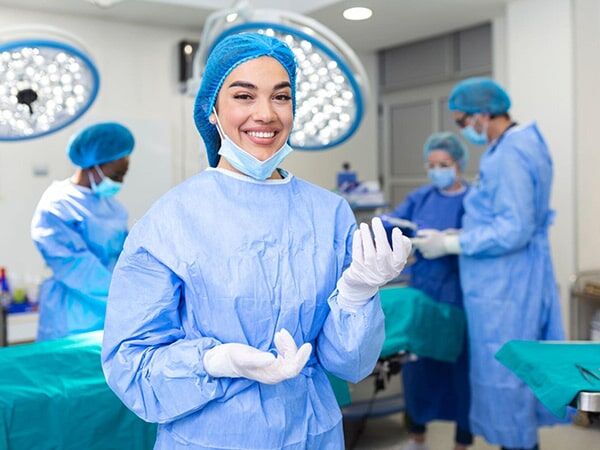 Where Can You Buy Disposable Surgical Head Caps?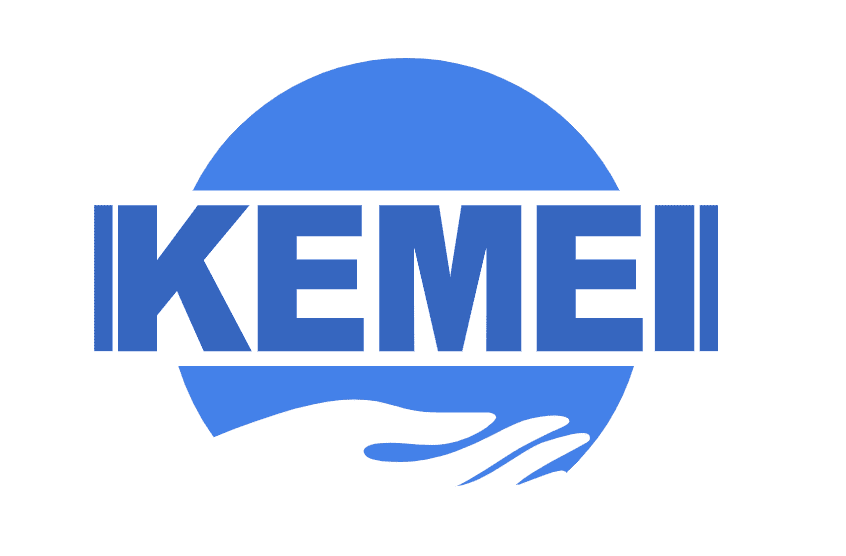 Kemei's disposable head protection and medical supplies provide customers with unmatched defense against head pollutants. You can contact us if you're seeking a bouffant surgical cap in various sizes for various hair volumes to give medical professionals choices. You may also get 100% quality PPE, such as OEM surgical gloves and disposable hospital gowns, in addition to operation caps.