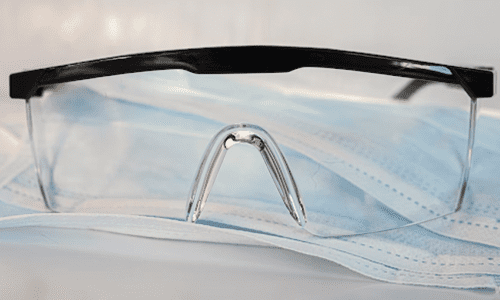 The use of Personal protective equipment which is commonly known as PPE is one of the smartest yet crucial choices that any working professional makes in safeguarding oneself from various hazardous situations. The protective equipment aims at safeguarding professionals from serious illnesses or workplace injuries that can be caused by coming in contact with pathogens, radiological, chemical, mechanical, physical hazards, or other workplace hazards.
It is important to note that a wide range of work necessarily involves eye and face protection, and one common error they make is neglecting to wear the appropriate personal protective gear.
What is Medical Eye and Face Protection?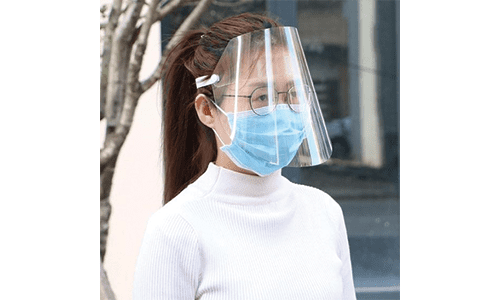 Thousands of people go blind or contract various illnesses each year as a result of not using Medical eye or face protection. Illnesses not only cost a huge chunk of money in medical payment bills but also hampers the institution as its workers suffer from various health issues. Therefore, conducting a pre-job hazard assessment on PPE is essential for both employees and employers. Face protection PPE shields (Learn: What is Face Shield?) users from the possibility of dangerous liquid sprays or splashes. When wearing UV protection, the face and eyes must be specifically protected from dangerous rays.
Employers are required by law to conduct hazard assessments of their workplace to determine which hazards require the use of PPE. With the help of this assessment, employers are to provide their employees with appropriate PPE along with training on how to use and maintain it in a clean and reliable condition.
Working professionals can protect themselves through the use of safety glasses, face protection PPE and goggles. Furthermore, they can shield their faces through these protective gear from any medical illness, large fragments, hot sparks & splashes, sand, dirt, mist, flying objects, and glare as well. It is to be mentioned that the type of protection required depends on the danger one might suffer.
What is ANSI Rating for Eye and Face Protection?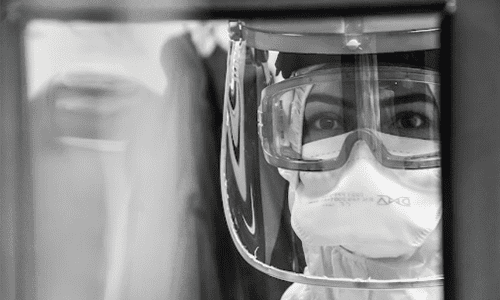 The ANSI ratings for eye and face protection is a set of standards created by the American National Standards Institute developed to designate the pressure-temperature ratings of pipe flanges.
What is Eye Protection PPE?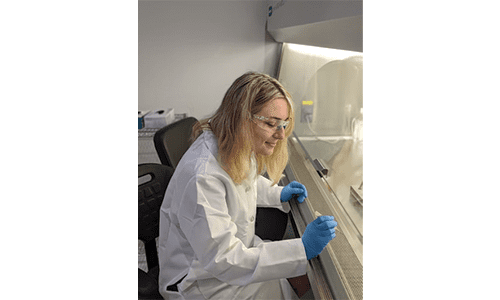 Eye Protection PPE is a form of eye protection that totally shields the eyes from impact, dust, mist, and spills while also covering the eye sockets and the area surrounding the eyes on the face.
Types of Eye Protection PPE
There are different types of Personal protective equipment one can use to Protect their eye and face. The types vary from user to user. Here is a list of various PPE available in the market:
Eye Protection Goggles
Eye Protection Goggles are the primary eye protection equipment designed to shield the eyes from liquid or chemical splashes, as well as harmful mists, fumes, and vapors. They form a protective seal for the eyes which prevents objects or liquids from entering the eyes through the goggles' openings.
It is to be mentioned that although eye protection goggles shield the eyes it has some drawbacks as well. Few complained that the Eye Protection Goggles are uncomfortable to wear. They are prone to fog up and at times are too hot to wear. Many have complained of eye strain or eye fatigue, which occurs when the eyes become tired and hurt from prolonged use.
Eye Protection Goggles from medical goggles supplier, Kemei not only shields from harmful objects but also save businesses and employees a significant amount of time and money who work in healthcare institutions, chemical industry workers, and others who are exposed to harmful viruses and chemicals.
Types of Safety Goggles
Direct vent: The Direct Vent Goggles consist of multiple perforations around the body that promotes airflow, which reduces lens fogging. They are primarily used to protect against impact. This type of goggle should not be used for liquid, dust, or caustic vapor protection.
Indirect vent: The indirect vent goggles have covered vents to increase airflow. They offer better protection against liquid splash and dust, but should not be used around caustic vapors. Even though the covered vents improve airflow, indirect vent goggles fog up more frequently. However, there are models with dual-pane lenses and anti-fog coatings.
Non-vented: The non-vented goggles are completely sealed with no vents. They offer excellent resistance to impact, dust, splash, and caustic vapors. But, since they lack vents, these goggles tend to fog up quickly, so it is advised to use an anti-fog model.
Safety protection Glasses
The Safety protection glasses provide impact protection to your eyes. The Safety protection glasses can protect your vision from accidental injuries since airborne chemicals, dust, and debris can cause significant injury to the eye. It further protects you from potential harm.
However, it is important to note that the Safety protection glasses consist of small gaps around the lenses which could expose your eyes to harmful liquid splashes and dust. They can cause vision distortion, particularly at the lens's edge if you have a strong prescription or astigmatism. Depending on the frame you choose, it may also be difficult to see in the far periphery or on the sides of your vision.
Safety protection glasses are designed for your convenience and eye protection, whether you are an avid rider, work in a laboratory, or need to protect your eyes from dust and pollution.
Face Shields
A face shield is a type of personal protective equipment that is designed to shield your eyes as well as your entire face from hazards such as flying debris, chemical splashes, and potentially infectious materials. Face shields have the advantage of protecting the entire face, including the eyes, which, along with the nose and mouth, can be prone to various pathogens that might make one sick.
There are also a few drawbacks of wearing a face shield. To begin with, they can be a bit annoying as it wraps around the sides of your face to maximize protection. It can also fog up blocking your vision and get steamy. People who wear face shields over their masks may also need to speak louder when communicating with others.
Face shields are personal protective equipment used mainly by healthcare professionals for protection from sprays, splashes, and spatter of body fluids.
Different Types of Eye Protection
There are three basic categories of eye protection. They are face shields, safety glasses, and goggles.
Eye Protection Safety
In order to protect our eyes we must take every precaution possible. We must use the tools we have at our disposal to protect our vision. To keep good vision, prevention and education are essential. Regular eye exams, awareness of risk factors, and preventative eye care equipment will help us in protecting our eyes. The Centers for Disease Control and Prevention (CDC) advises eye protection in a number of situations where workers may be at risk of ocular exposure to infectious diseases.
When used in conjunction with other personal protective equipment (PPE) like gloves, gowns, masks, or respirators, eye protection acts as a barrier to prevent infectious contaminants from entering the eye. The choice of eye protection should be made in light of other PPE usage criteria. Similar to how some face shields may not fit well over particular respirators, safety goggles may not fit properly when worn with some half-face respirators. The chosen PPE should be pre-tested to ensure proper fitting and protection when used as an ensemble once PPE requirements have been specified for a given infection control circumstance.
There are always risks and threats in the workplace, regardless of the industry you work in. It is critical to identify the specific hazards in your workplace so that you can select the appropriate PPE. Choosing the right PPE to reduce exposure to hazards is crucial for one's safety.
The goal of this section is to help you identify and categorize various types of PPE (What are ppe types?) so that you can choose the appropriate PPE for your use. Wearing eyewear and shields that are specifically designed can reduce your risk of being exposed to chemical splashes, laser radiation, and flying debris. Therefore proper PPE for the eye and face protects you not only against chemical splashes but also against various pathogens.
There are different PPE for eye and face protection but it is broadly classified as safety glasses and safety goggles (Safety Glasses Vs. Goggles). Both of these differ in terms of how they maintain their equilibrium. As glasses necessitate the use of a nose bridge, whereas goggles do not. There are numerous other distinctions between them as well.
Goggles are commonly used as eye protection PPE because they have adjustable straps and do not easily become displaced from impacts. Since there are various types of PPE available, finding the right balance of protection, comfort, and cost can be difficult. However, the type of hazard determines the next classification.
There are chemical-resistant chemical splash goggles available for chemical splashes and spills. Depending on the concentration and type of chemical, there is generally a wide variety of chemical splash goggles available. Because chemicals can end up causing permanent eye damage, it is critical to use chemical splash goggles when handling and working with chemicals.
UV safety goggles are typically worn by people who work in the sun, near UV lamps, or by medical researchers who work with UV rays. It is important to consider that UV rays can cause severe permanent eye damage.
PPE for eye protection is commonly used when there is a potential danger that might cause eye damage. PPE for eye protection varies based on the severity and type of hazard. When a barrier between the eyes and the external environment is required, general safety goggles are used. It is relatively simple to put on PPE for eye protection. Even without training, it is possible to use safety goggles (101 Guide to Safety Goggles) or glasses.
Another important PPE equipment is the Full-face masks that cover the entire face and, in some cases, the entire neck. These masks are very popular and are frequently sold with a hard hat. It has a clear shield that protects the face and neck. Full face masks are ideal for areas where there are significant physical risks to the face and eye.
Face and eye protection, as we all know, is one of the most important aspects of workplace safety; it is also relatively simple in comparison to some other aspects. Once you've identified the hazards in your workplace, it's just a matter of finding the best personal protection equipment for your workers and employees. There are several options available, so take your time to find the best way to protect your and your employees' faces at work.
Medical Eye Protection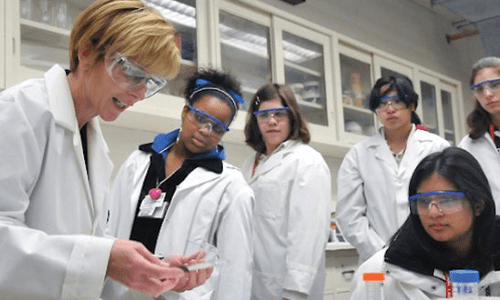 The eye protection selected for particular work situations relies on the exposure conditions, additional PPE utilized, and individual visual needs. For Medical eye protection there are varieties of protective eyewear that come in a wide range, and the best choice should be made based on a number of considerations, the most crucial of which is the nature and severity of the hazard. Eye protection needs to be comfortable, allow for enough peripheral vision, and be adjustable for a snug fit.
Working in the healthcare industry can be demanding, exhausting, and occasionally deadly. Healthcare workers run the danger of getting bodily fluids, toxic chemicals, infectious droplets, and splashes in their eyes on a daily basis. All of this could result in eye irritations and damage.
It is recommended that all healthcare professionals should wear eye protection, such as goggles, safety glasses, or face shields, when working with patients or in areas with moderate to severe community transmission. Medical goggles supplier, Kemei is one of the best in the market.
It's to be mentioned that safety eye and face protection comes in various varieties, each of which offers varying degrees of ventilation, communication ease, and virus defense.
Wear Eye Protection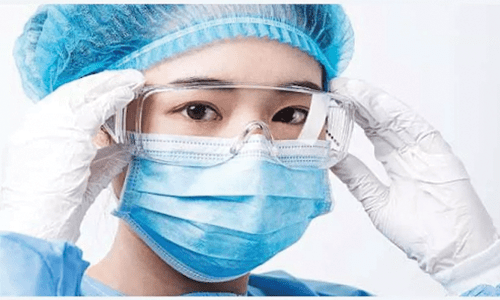 The PPE acts as a protective shield that extends from the user's eyebrows to the chin and covers across the width of their head. It is to be mentioned that to protect oneself from UV protection it must be specifically designed so that it could easily protect the face and eyes from harmful radiation. Unless you specifically purchase impact-resistant lenses, regular glasses are not typically tested for impact resistance.
Healthcare workers must use face and eye protective gear to safeguard themselves from potentially exposing themselves to bloodborne pathogens through splatter or droplets of blood, spray, splashes, and other infectious objects. Medical eye and face protection wear are frequently impact-resistant and shatterproof since medical professionals must take great care in protecting themselves as there is a risk of mucous membrane contamination.
Wearing protective eye and face gear can give you protection from any injuries or damage to your eye since various airborne dust, debris, and chemicals can cause significant damage to your eyes and face that could at times be fatal. Therefore it is advised to wear protective gear unless you want to jeopardize your vision.
Eye hazards can be encountered by healthcare personnel in hospitals, urgent care centers, and
emergency rooms. It is important to note that personal protective equipment (PPE) should be comfortable and fit for its users. Every day, we are exposed to various levels of ionizing and non-ionizing radiation. Non-ionizing radiation is emitted by radio waves, tanning beds, and microwaves whereas ionizing radiation is emitted by gamma rays, x-rays, and UV rays. It is important to note that non-ionizing radiation can be shielded from your eyes with medical eye protection.
Medical safety glasses not only provide a shield for your eyes but also shield your face covering the temples which prevent stray splatter from entering your eye through the side. It also has a top shield to protect the area between your eyebrow bone and your glasses' top frame.
PPE with anti-fog coating on safety glasses is a game changer as it prevents fogging regardless of what you're doing, allowing you to focus on your work as fogging of glasses while working can make you take them off to clean them or to have proper visibility, potentially exposing your eyes to chemicals and pathogens.
For medical professionals, it is important to wear medical eye and face protection when working in the OR, because even if the patient is sedated, you are still at risk of exposing yourself to spills and debris on the operating table.
Quality eye and face protection should be available to all healthcare workers, and medical disposables manufacturer- Kemei allows you to get the protection you need that is easily disposable and remains clean and contaminant-free.
PPE Eye Protection Standards
Eye and face protection is addressed through the specific Occupational Safety and Health Administration also known as OSHA standards for general industry, maritime, and construction. Employers are required by OSHA to pay for personal protective equipment used to comply with OSHA standards that include hard hats, goggles, safety shoes, gloves, safety glasses, chemical protective equipment, face shields, and fall protection equipment.
Many categories of personal protective equipment must meet or be equivalent to standards developed by the American National Standards Institute (ANSI), according to OSHA. The administration requires that covered employees receive medical examinations at least once every 12 months.
Employers are required by OSHA to ensure the safety of all employees in the workplace. When necessary, eye and face protection must be provided to protect against chemical, environmental, radiological, or mechanical irritants, and hazards. If an employer fails to comply with OSHA safety glasses and PPE standards, the company might face significant fines.
Where to Wholesale High-quality Eye and Face Protection PPE?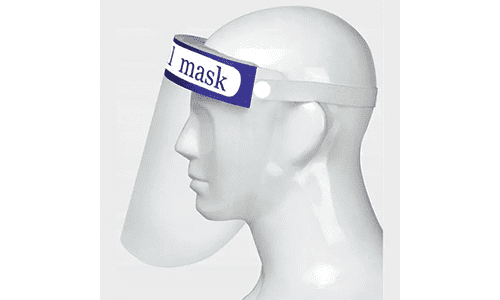 The leading Personal Protective Equipment (PPE) brand Kemei has established itself as an integrated manufacturer and distributor of advanced medical products that concentrate on improving healthcare workers' ability to treat patients.
Kemei, one of the leading medical goggles manufacturers, creates high-quality medical safety goggles for protection without sacrificing comfort. Medical goggles protect the eyes from dust, blood splatter, chemicals, and other potentially hazardous substances. They use quality materials that adhere to sustainable practices to reduce waste accumulation during the production of face and eye protection kits. They test their medical goggles according to strict global standards to ensure they are germ-free and comfortable to wear. They are also a leading surgicare gloves manufacturer.
Kemei produces wholesale plastic face shields and medical goggles for the healthcare industry. Their medical goggles are also used in manufacturing, swimming, and other operations that require protective eyewear. Kemei medical safety glasses set the standard for quality assurance, with CE, FDA, ANSI, ISO, and other certifications.
They develop cutting-edge face shields for all-around protection against incoming pathogens using high-quality materials and technology. To add value to each purchase, they provide consultation and after-sales support as well. The company manufactures OEM face shields that serve as perfect protection for the face against all types of hazards using years of experience and continuous study of industry standards as well as bespoke disposable face masks. They try to help make the world a safer place by providing wholesale face shield solutions.