What Are Surgical Gowns?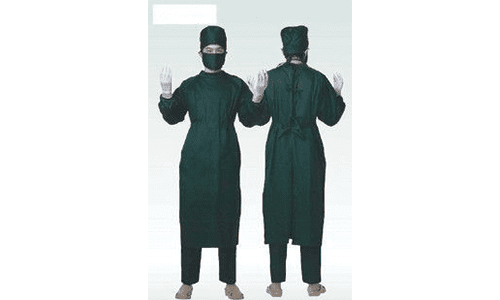 Surgical gowns are a common piece of personal protection equipment manufactured in medical gowns factories. For all kinds of surgeries, surgeons and the surgical team wear surgical gowns. For surgeons and all other medical professionals, contemporary surgical gowns offer a protective barrier.
The barrier protection offered by surgical gowns helps to stop fluid and blood contamination. The majority of surgical gowns are sterile and are available in many different sizes and variations. One may buy surgical gowns alone or in surgical packs. For routinely performed surgeries, there are several surgical packs available.
Types of Surgical Gowns
Closed-Back Hospital Gowns
Job safety is improved by the utmost protection and knee-to-neck covering provided by closed-back gowns. The staff won't come into touch with microorganisms and bloodborne diseases thanks to the impenetrable barrier formed by the closed-back gowns.
Medical practitioners in any healthcare environment can benefit from closed-back medical gowns in several ways. FDA and CE-certified surgical gowns from any surgical gowns supplier include characteristics that will improve employee safety and create a healthier work environment. Each closed-back isolation gown is created from various tough fabrics in several layers for maximum protection.
Isolation gowns
FDA-approved isolation gowns from a disposable isolation gowns supplier can be used to avoid cross-contamination and protect users from contact with infectious illnesses, bloodborne pathogens, and potentially dangerous liquids. To protect healthcare workers from respiratory droplets and halt the transmission of germs, proper isolation gowns are crucial in settings like emergency rooms and intensive care units.
Isolation garments have several characteristics that provide special advantages to users as well as to employers and patients:
Increased rip and flame resistance with ultrasound technology
Elastic cuffs for additional comfort and protection
Lightweight, breathable fabric for better comfort and temperature control
Increased ability to withstand liquid, alcohol, blood, and static
PP and PE laminated cloth that will last for the day.
To safeguard people with latex allergies, choose latex-free material.
Non-Sterile Gowns
An essential piece of PPE for every healthcare facility is non-sterile procedure robes. The non-sterile medical gowns offer good resistance to bodily fluids and are made to keep hospital staff members secure while providing care to patients in typical, nonsurgical settings. Building up the inventory of personal protective equipment at the facility with AAMI non-sterile Level 3 gowns is essential.
In healthcare settings, non-sterile medical gowns provide exceptional durability and safe protection. During normal care operations, these gowns are frequently worn by personnel, visitors, and patients. PP and PE laminated fabric, fluid-resistant fabric, and ultrasonic protection technology are just a few of the benefits that non-sterile gowns have to offer.
Open-back gowns
An excellent PPE choice for low-risk medical settings is an open-back gown. They offer a basic but efficient barrier that prevents people from being exposed to liquid splashes and sprays.
The FDA and CE-certified open-back isolation gowns combine convenience with quality. Long sleeves with elasticized thumb loop wrists are a hallmark of these dresses for a snug and comfortable fit. Each gown has a front that completely covers the body, and the open-back style makes it simple to slip on and take off the dresses. The workers, patients, and visitors may all wear the garment for as long as is necessary thanks to its flexible fit.
Each robe is made of impermeable thermoplastic material with outstanding fluid repellency and is latex-free.
Sterile Gowns
In a surgical environment, healthcare personnel frequently use sterile surgical gowns to protect the bodies and clothing from fluid and germ transmission. Long sleeves, fitting cuffs, and neck-to-knee covering in a multilayered, densely woven cloth are common features of sterile medical gowns.
Sterile gowns are typically worn during operations that expose surgical workers to body fluids to provide a sterile barrier between them and the environment.
Numerous characteristics of sterile isolation garments improve their capacity to protect. The barrier it helps to produce against bacteria, viruses, and other potentially contagious diseases is made of composite multilayered cloth. Anti-static, fluid, and flame-retardant coatings are added to each layer to provide further protection. Sterile gowns are disposable items that can only be used once.
Surgical Gowns
One essential piece of personal protection equipment that staff members in the healthcare industry employ is surgical gowns. These surgical gowns, which are made expressly for protection during operations, offer a very effective barrier to keep doctors and other healthcare professionals safe from potentially harmful germs.
Surgical gowns come in various styles and are used in hospitals all across the country. Apparel needs to be recognized as a Class II medical device by the FDA to be used as a surgical gown. Surgical gowns are worn by healthcare workers during surgical operations as a form of personal protection to safeguard both patients and staff.
Different Levels Of Protection Provided By Surgical Gowns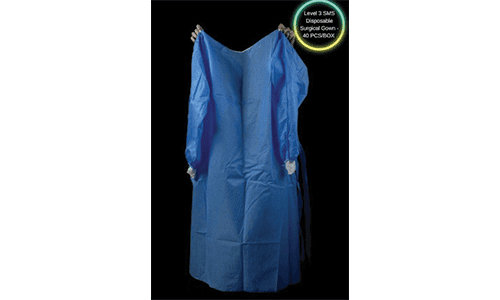 A vital component of personal protective equipment (PPE), hospital gowns come in a variety of styles to provide a barrier against body fluids, infectious diseases, and infections. Items like scrubs purchased from reputed wholesale medical coverall scrubs manufacturer can stop healthcare professionals from spreading dangerous pathogens from one patient to another.
According to the Association for the Advancement of Medical Instrumentation (AAMI) level standards, hospital protective gowns are classified into four categories.
Level 1: Minimal Risk
The least amount of protection is provided by level 1 medical gowns. Level 1 gowns give protection against tiny quantities of fluid for hospital visitors, excision biopsies, fundamental ENT (ear, nose, and throat) operations, or routine isolation.
Only scenarios with a low risk of exposure to dangerous chemicals or microorganisms should be utilized with Level 1 gowns.
Level 2: Low Risk
Gowns of level 2 are used in circumstances where exposure danger is minimal. This can involve medical personnel conducting an MIS (minimally invasive surgery), taking blood, or working in the ICU. Better fluid protection for spattering and soaking is offered by this level of gown. These can be made of PP/PE or SMS material and are available in sterile and non-sterile types.
Level 3: Moderate Risk
For intermediate-risk situations like the emergency department, placing an IV, taking arterial blood samples, or managing a trauma case, level 3 gowns (4 Different Isolation Gown Levels) are recommended. Through spatter and soaking, they can defend themselves against greater volumes of liquid. Both sterile and non-sterile materials are acceptable for Level 3 gowns.
Level 4: High Risk
The maximum level of protection against water penetration is provided by level 4 medical robes. These robes are appropriate for prolonged surgical operations in the operating room, where there is a high danger of fluid contact (like a cesarean section). Additionally, Level 4 gowns provide defense against infectious germs that are not airborne.
Level 4 coveralls, which ICU inventories also carry, provide a better high-degree barrier against fluids while allowing for unrestricted mobility without lowering the level of protection. These are a good choice for PPE in circumstances when your head and shoes might benefit from protection.
What Are Surgical Gowns Made Of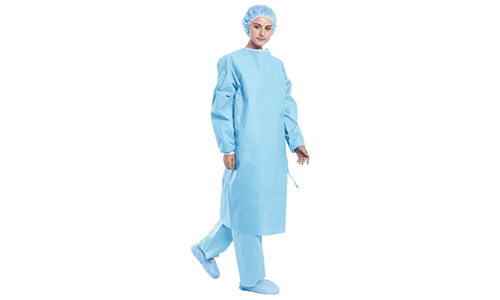 Doctors and nurses in the operating room wear surgical gowns (Knowledge: How To Properly Wear and Remove Surgical Gown) to prevent the spread of pathogens and bodily fluids from the staff to the patient as well as from the patient to the personnel. The majority of the performance standards for surgical gowns are widely known.
They must meet the essential requirements listed in the standard series to be classified as Class II medical devices. They might be thrown away or reused. To stop the escape of polluting particles into the air, which is a likely cause of contamination for the patient, disposable nonwoven surgical gowns have been introduced. Healthcare personnel is increasingly choosing single-use nonwoven medical gowns over reusable ones because they believe them to be superior.
High performance is required for operations where there is a high danger of infection and liquid penetration. For activities where these risks are smaller, standard performance is used.
The Structure Of Hospital Gowns
Since many of the gowns had no side seams, the majority of them were made of three to five primary parts, with the front and back panels being delineated by the positioning of the sleeves. There were no seams or breaks in the fabric surface on the fronts of the dresses. This is very significant since the performance of the barrier depends on the front of the body.
Two overlapping panels that provided access for donning and doffing made up the rear. Usually, nonwoven strips identical to the material used to make the gown were utilized as ties, which were employed in various places to bind the gowns.
In contrast to woven or knitted textiles, disposable gowns often use non-woven materials. The term "nonwoven fabric" refers to a fabric-like material comprised of long and short staple fibers that have been mechanically, chemically, thermally, or solvent-bonded together. In the textile production sector, the phrase is used to describe textiles like felt that are neither knitted nor woven. Some non-woven fabrics require densification or backing reinforcement to give them the necessary strength. Non-woven fabrics have emerged as a replacement for polyurethane foam in recent years.
SMS Non-Woven Fabric – SMS is the primary fabric used in disposable gowns; it is soft, cozy, and breathable for clinicians to dress in. Two layers of melt-blown polypropylene create a superior microbiological barrier while three layers of spun-bond polypropylene guarantee exceptional flexibility, severe abrasion resistance, and a cloth-like feel.
Reinforced Sterile – The reinforced sterile, which is made of PP and PE, can effectively protect medical staff from contact with blood, bodily fluids, and other infectious materials.
Wood Pulp-Biodegradable Non-Woven Fabric – An innovative material that is very appealing due to its cloth-like texture and softness is wood pulp non-woven fabric. Its enhanced splash-resistant barrier provides you with excellent protection while still allowing you to breathe. People also like the popularity of hospital surgical gowns made of this material.
Additionally, this cloth is biodegradable and includes favorable microorganisms. It is made of non-toxic, safe wood pulp as a base material. Additionally, it won't affect the environment because it may entirely decompose within one year when buried in the ground. In other words, the world of surgery may also be green.
How Are Surgical Gowns Tested?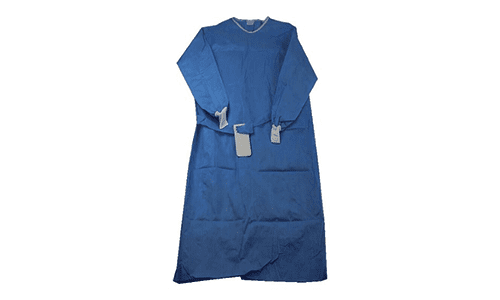 To guarantee that they offer the wearer the greatest level of protection, all ANSI/AAMI-approved gowns go through rigorous testing. Hydrostatic pressure is also measured on level 2, 3, and level 4 gowns in addition to impact penetration testing.
Level 1 Testing
Level 1 gowns are examined with just one technique. After applying water to the gown material's surface, its performance in terms of resistance and barrier protection is evaluated.
Level 2 Testing
Level 2 costumes must pass two examinations. The first evaluates its performance in terms of barrier protection and resistance to very light water spray and penetration. The second evaluates a material's ability to withstand persistent contact with rising pressure while being exposed to modest degrees of liquid penetration and exposure.
Level 3 Testing
Level 3 gowns are put through the same testing as level 2 gowns, but they are also tested for resistance to water under moderate pressure and exposure to liquid.
Level 4 Testing
As with level 2 and level 3 gowns, level 4 gowns are assessed for fluid penetration and water resistance. They also go through a different test using simulated blood that has a virus in it. After being exposed to blood, the gown is examined. Only if no virus is found to have been exposed may it pass.
The protection level of each gown is prominently marked on the label. Make sure you select a medical gown with the proper amount of protection for the job.
Best Surgical Gowns
Medical workers utilize surgical gowns as important protective gear to safeguard patients' health from numerous infections, including germs and viruses. The pores in clothing cannot pass through microbes if they are smaller than the microbes themselves. When making clothing, manufacturers must take specifications, comfort, and price into consideration. It is challenging to take each requirement into account. However, producers always work to improve their techniques in response to the general public.
Medical items under the Kemei brand not only adhere to international safety and performance requirements but also national safety and performance norms. They have certificates for their medical supplies from the FDA 510(k), the EU CE, and other organizations. Their medical goods adhere to worldwide product standards, according to reliable third-party testing organizations like SGS and TUV.
Through the R&D division, Kemei is poised to change the medical business. They consider the suggestions and needs of healthcare professionals from all around the world, as well as their difficulties with latex medical glove manufacturers, such as allergies. By doing this, they provide medical products that have raised the standard of healthcare workers all around the world.
Isolation vs Surgical Gowns
Surgical Gown: Surgical gowns can be used to cover any degree of risk (Levels 1 through 4). An individual protective garment called a surgical gown can be worn by medical staff during surgery to shield them from any potential transfer of pathogens, fluids, or particle matter.
Surgical isolation gowns: Surgical isolation gowns are worn when contamination is medium or high risk. Larger critical zones than those seen in conventional surgical gowns are required for surgical isolation gowns. Except for the bindings, cuffs, and hems, which are thought to be crucial zones of protection, the surgical isolation gown must have the maximum level of liquid barrier protection. Additionally, all seams must be shielded.
Non-Surgical Gown: In low- or minimal-risk patient isolation scenarios, non-surgical gowns are used to shield the user from the spread of pathogens and bodily fluids. Non-surgical gowns are not used during invasive procedures or surgical operations when there is a medium to high risk of contamination. Similar to surgical isolation garments are non-surgical robes.
What Kind Of Surgical Gowns Are Favoured By Doctors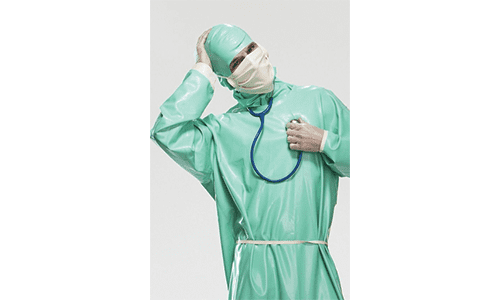 Natural Material
Surgical gowns can be made of reusable or single-use fabrics. Depending on the design of the fabric and the material's performance qualities, each of them offers benefits and drawbacks. Traditional materials for woven, reusable surgical gowns include cotton muslin with tight weaves that have been treated with fluid-repellent substances. These days, the majority of dresses are composed of polyester or polyester combined with cotton.
All-cotton muslin is a loosely woven, soft, absorbent fabric with a thread count of 140 per inch. This permeable fabric with high air permeability, which was formerly a common material for medical textiles, has lost market share due to its weak resistance to liquid penetration.
Comfortable to Wear
Surgical gowns may be constructed from reusable or one-time-use materials. Each of them has benefits and drawbacks depending on the way the cloth is made and how well it performs. Cotton muslin with tight weaves that have been coated with fluid-repellent compounds is a traditional material for woven, reusable surgical gowns. The majority of dresses made nowadays are made of polyester or polyester and cotton.
Anti-Static
Fabrics used in surgical textiles are sterilized using various techniques to stop them from contracting diseases. Worldwide, there are four different types of sterilizing techniques. They are dry heat, gas, irradiation, and steam autoclave. The first two types of surgical gowns are sterilized using low-temperature techniques, whereas the final two types of surgical robes are sterilized using high-temperature techniques.
Although the steam autoclave is popular due to its efficiency, safety, and low cost, it is unsuitable for materials that are sensitive to heat and moisture. The approach works better with ethylene oxide (Eto), although it has hazardous and drawn-out cycles. Thus, the Steris System and the Sterrad System can be thought of as alternatives to the other approaches.
Wear-Resistant, Patient And Durable
Textiles used in operating rooms (ORs) should have a high barrier effect and be comfortable to wear during the whole surgical procedure to offer a safe barrier for patients and surgeons. This is accomplished by utilizing unique fibers and unique finishing. The only reusable materials for surgical gowns that simultaneously meet these two opposing requirements are hydrophobic woven polyester textiles. The configuration of the filaments in the yarn and the design of the woven fabric have a direct impact on the barrier effectiveness of these materials.
Breathable
A composite of hydroentangled polypropylene face cloth bonded to a microporous breathable film that serves as a barrier to the majority of microorganisms and viruses has been created as disposable surgical drapes, surgical gowns, and staff gear. In addition, several areas of the clothing are strengthened with removable liquid/blood-repellent layers. Durable or reusable OR clothing made of 100% woven staple-fiber or continuous-filament polyester fabric coated with P.T.F.E. or laminated to a P.T.F.E. film is also well-liked in several nations.
Sweat-absorbing function
Barrier performance primarily relates to the barrier performance of surgical gowns, and its primary methods of evaluation include hydrostatic pressure, water pressure test, impact penetration, mist spray, blood penetration, microbiological penetration, and particle filtering efficiency.
The surgical gown's ability to perform adsorption is a key characteristic that makes it sterile. Its materials can absorb liquid splashes produced during surgery as well as water vapor mist and colloidal particle dust in the air produced by devices like electric knives, reducing the airborne spread of harmful materials and lowering the risk of infection for patients' incision sites and medical personnel.
FAQs
What Is A Reusable Surgical Gown
Reusable gowns are tightly woven plain textiles that are commonly composed of 100% cotton, 100% polyester, or polyester/cotton mixes. After each use, they are cleaned, sanitized, and packed for reuse. Typically, they may be used for up to 50 washing and sterilizing cycles.
How to fold a surgical gown
The lapels of the surgical gowns should be unfolded, leveled up, and folded once outward on each side, accordingly.
Fold the two sleeves inside, lay the surgical gown flat, and affix a label to the belt. Turn the surgical gown up and down so that the placket is facing down.
It will be stacked up three times in order, from bottom to top;
It is packed evenly from the two edges to the center;
Align the center line, then fold both sides in the same direction;
Finish folding the label by applying it.
How to tie a surgical gown
Grab the folded gown through all layers with one hand and remove it from the packaging, being careful to only touch the exposed top layer on the inside.
Step back from the shelf and let the gown fall after your hands have the gown firmly pinched in these slots.
Make sure nothing contaminated in the area touches the gown.
Open the dress with the armholes facing you by grasping the inner shoulder seams.
One at a time, carefully tucks your arms inside the gown up to your shoulder, keeping your hands out from the body.
Sliding the arms farther into the gown sleeves, grip the inner seam at the cuff hem with the thumb and index finger when the fingers are level with the proximal border of the cuff. Make sure that no part of your hand peeks out from the cuff of your sleeves.
The gown will be fastened behind you by a theater helper who will grab the inside of the garment at the shoulder seam and place it over your shoulders. Only the inside of the gown should ever come into touch with the hands of the theater assistant.
The theater helper then gets ready to fasten the garment at the upper back and neck. While there are many different ways to fasten a gown, the majority use ties, buttons, or velcro tabs.
How To Remove The Surgical Gown
Release the knot first, then grab the dress at the hip area and pull it down and away from your sides.
Pull one arm at a time from the gown's sleeves once it has been taken off your shoulders until the sleeves are gathered at your wrists. Next, enclose the exposed side of the gown in a tight ball by rolling it inside.
Why Do Hospital gowns open in the back?
The robe-style robe can cover the upper middle and upper part of the patient's thigh, avoiding the exposure of the abdomen and private parts, and protecting the patient's privacy; the slit on the front of the robe is set on the back of the gown, and the slit is provided with a Velcro sticker. It is not only convenient and fast to wear, but also avoids the pressure on the patient's back and relieves the patient's pain; but also helps the doctor to check the patient's back skin and improves the work efficiency.