EvEver asked, what is a surgeon's hat called? Well, they are called Scrub Caps. Just like scrub suits, scrub caps or surgical caps have become synonymous with the healthcare profession, and in particular, nurses.
This article will take you through everything you need to know about scrub caps.
What is Scrub Cap?
The scrub cap is a type of hair covering for nurses and surgeons. They help to keep the surgical theater and clinical wards sterilized and free from contamination. Depending on the health condition, they can also be worn by patients to help protect their hair from getting stuck or pulled by surgical equipment.
How has the Scrub Cap Evolved
Over the years, the scrub cap has been subject to changes and evolution both in design and material. Scrub caps were first used by religious monks and nuns who ran medical facilities. Sometimes in the 1940s, scrubs became prevalent among medical professionals who called it a "scrub hat."
Initially, scrub caps were made only from polyester and cotton. Due to their stuffed brims, nurses did not find these scrub hats really comfortable to wear.
So, what are surgical caps made of now? Well, a few decades later, around the 1980s, scrub caps began to be made with material blends like nylon and polyester which were considered more comfortable than polyester and cotton. Also, instead of stiff brims, scrub caps now had elastic bands, making them even more convenient for use.
Recently, the act of putting on different colors of scrub caps to indicate different roles or duties performed in an operating room has become a trend. For context, nurses are known to put on soft blue scrub caps, surgeons put on green, and doctors put on dark blue, and white anesthetists.
Why do Nurses Wear Medical Scrub Caps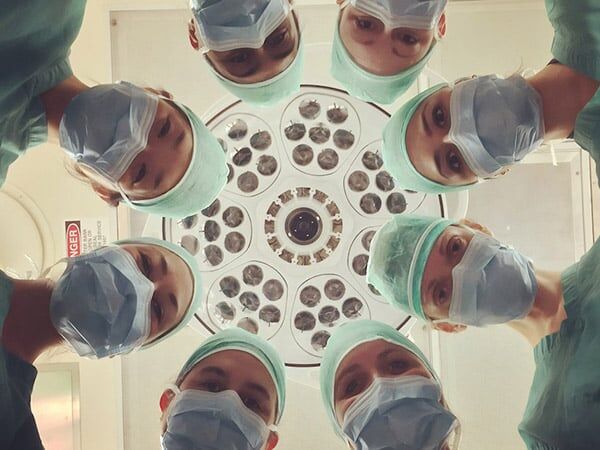 Unlike some common and uninformed beliefs, scrub caps aren't worn by nurses for fashion purposes. In fact, the majority of nurses do not find them as fashionable as non-practitioners.
In case you have also been wondering why nurses are wearing scrub caps for COVID, know that scrub caps are an essential part of a hospital uniform, COVID or not. Primarily, they serve the following purposes:
Protect Nurses
Firstly, nurses need something to protect their hair, hence, the surgery cap for nurses. If there is a fan, a blade or anything spinning at all in the room, scrub caps prevent their hair from getting caught and pulled by these objects. In this scenario, the scrub cap is to the nurse what a helmet is to the construction worker.
In another instance, scrub caps also help to protect nurses from contracting diseases or infections that could stick to their hair.
Protect the patients
Everybody's hair and scalp contain some germs, and in order to prevent these germs from being passed to patients, nurses have to wear scrub caps. This is very important in sterile environments like the operating theater.
Should a nurse's sweat drop on a patient with wounds or a cut opening, it will cause the patient some pain. Scrub caps make sure that even the littlest drop of sweat or dandruff from the hair does not make it onto a patient.
Comfort
Scrub caps are made of quality and comfortable materials to ensure that nurses do their job with ease.
Also, having sweaty bangs stuck to the forehead can be very uncomfortable and itchy. Imagine a sweaty nurse trying to arrange her hair while attending to a patient. That scenario will be very disorderly. Scrub caps also ensure that nurses' hair is fully packed, giving them a good view of their activities.
Why do Surgeons Wear Scrub Caps
Scrub caps are compulsory for surgeons as well as nurses. Surgeons might break a sweat in the middle of operating on a patient and if this sweat enters their eye, it could cause them to make a mistake. This might lead to complications in the operation process.
It is important that surgeons always cover their hair while working because even the neatest hairs have some bacteria in them.
Main Types of Scrub Hats for Nurses and Patients
There are various types of scrub caps, both for nurses and patients. They are:
This type of scrub cap is perfect for nurses or patients with long hair. Ponytail caps are ideal for holding your ponytail style together. It has a hole at the back through which you can pass your ponytail after styling it.
If you work in a hospital that does not require that nurses cover their whole hair, this type of scrub cap is good for you.
This is a tight-fitting type of scrub cap that effortlessly carries and holds the hair. However, it cannot be used on a huge volume of hair, preferably for nurses with low cuts or short crops.
Bearing similarities in semblance with an oversized shower cap or a chef's hat. The Bouffant scrub cap is perfect for those whose hair can not fit into Pixie caps or nurses who want that extra comfort. Kemei, a top disposable surgical cap manufacturer produces the best scrub caps that easily hold any volume of hair.
Just as its name suggests, disposable surgical caps are non-reusable. They are used along with other disposable protective clothing in hazardous environments with a lot of contaminants.
Healthcare officials and scientists working in high-contagion areas can not make use of regular scrub caps or protective gear. As a result, they depend on surgical gloves suppliers to provide them with the best because even after washing them the hazardous elements might still remain.
A headband is a common fashion accessory used to hold hair together. However, a nurse headband is used in more serious cases than for fashion. Nurses make use of headbands to keep their locks out of their faces while working.
How To Wear a Scrub Cap
A scrub cap is not difficult to wear, in fact, you do not need to be a nurse to know how to wear one. However, we will briefly explain to you how to wear a scrub cap properly.
You can either choose to wear it like every normal hat (but this time as protection) or as the Pony scrub hat. To learn how to put on a scrub cap follow these steps:
Tighten the ribbon of your scrub hat to make it into a pouch and then place the hat on your forehead from the front.
Pass your ponytail through the back of the cap.
Grab the edges of the ribbons and cross them under your bun or ponytail.
Pull it tight to create a snug fit.
Now make sure that the ends of the ribbon are above the bun, then make it into a bow.
The nurse headband on the other hand is even quite easy and faster. Just pack your hair to the back very neatly, then use the headband to hold the hair together in one position.
How To Choose a Scrub Hat For Nurses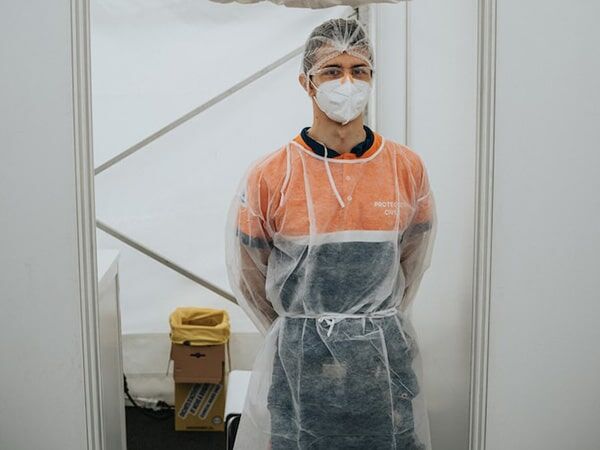 When choosing a scrub hat, you will need to put into consideration several things which are:
Size: As hair comes in different volumes and head sizes, it is important to take note of the size of scrub hats that will be most comfortable on the head.
Type of scrub hat: To choose a scrub hat, you have to first be familiar with the different types of scrub caps as already explained in this article. Some scrub caps are ideal for various individual cases.
Material: When choosing a scrub cap, make sure to check the fabric blend on the designs. The best fabrics for scrub caps are cotton, spandex, polyester, spandex, and rayon.

A 100% cotton scrub cap will be light in weight but prone to shrinking. Meanwhile, a scrub cap that is a mix of cotton and polyester tends to be more shrinkage-resistant.