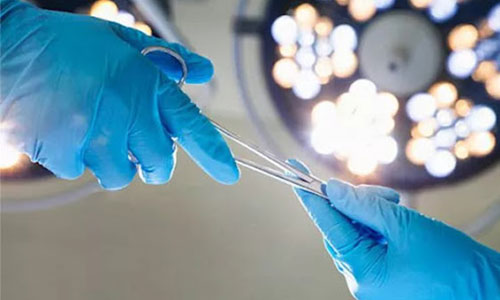 Some gloves are more suitable for different medical situations, industries, and even home use than others due to varying materials and design decisions. Additionally, ordering the incorrect kind of glove for the practice could result in resource loss and a higher risk of tears, rips, and punctures. Thus it is essential to know the difference between latex gloves and nitrile gloves.
What Are Nitrile Gloves?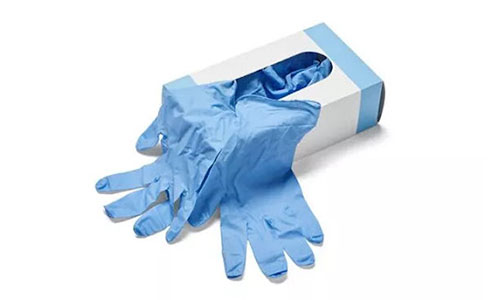 Nitrile gloves were initially developed as an option for those who were allergic to latex. They are a very popular option for gloves in a range of scenarios because of their strong resistance to chemicals and wear and tear.
Nitrile gloves were developed in the 1980s with the help of two men, Neil Tillitson and Luc DeBecker. In 1990, they developed the ultimate formula and production process for nitrile gloves.
Nitrile rubber, often known as Buna-N or NBR, is a synthetic rubber copolymer made from butadiene and acrylonitrile (ACN) molecules. Depending on its composition, nitrile rubber can vary in its chemical resistance and physical qualities. More acrylonitrile will strengthen the rubber and increase its resistance to swelling caused by oil.
Nitrile rubber will be more flexible if acrylonitrile content is lower. Usually, those who pick nitrile rubber choose versions with less flexibility in order to emphasize the material's other qualities.
The general properties of nitrile include, a flexible elastomer, include strong tensile strength, good puncture resistance, chemical and oil resistance, hypoallergenic characteristics, and more. Thus Nitrile gloves can offer protection from a variety of risks in both medical and industrial settings. Because of its adaptability, nitrile may be utilized to make both robust and tactile-focused synthetic rubber gloves.
There are several different types of nitrile gloves available, including general-purpose, examination, sterile, non-sterile, and options for chemo-treatment.
What Are Latex Gloves?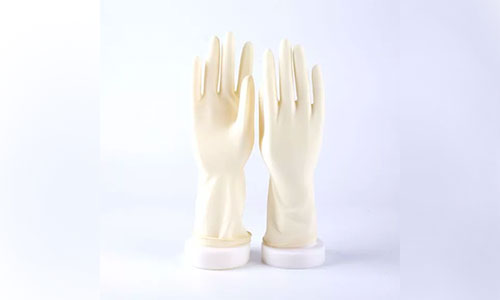 In order to avoid the medical staff from suffering dermatitis from medical chemicals, William Stewart Halsted, the first chief of surgery at Johns Hopkins Hospital, produced the first natural rubber latex gloves in 1889. Since that time, the usage of latex gloves in the medical sector has come to be understood as standard.
The dependable characteristics and advantages of disposable latex exam gloves are relied upon by many medical professionals. These gloves offer good barrier protection against bloodborne pathogens and other environmental pollutants and are FDA-approved for medical use. Disposable medical grade gloves will clearly state "Exam" or "Medical Grade" on their box, indicating that the FDA has approved them for use in medical settings.
In both powdered and powder-free varieties, sterile latex surgical gloves offer protection and effectiveness for a wide range of tasks in veterinary medicine, child care, senior care, and other fields.
Natural rubber latex is produced from the sap of the rubber tree and used to make latex disposable gloves, complete barrier protection. Natural chemical resistance to the majority of acids, bases, chlorine, iodine, and formaldehyde is a benefit of latex.
However, heavy-duty latex glove solutions provide increased protection against bloodborne infections and other environmental contaminants by providing twice the thickness of normal latex disposable gloves and featuring an expanded cuff.
Nitrile Gloves Vs Latex Gloves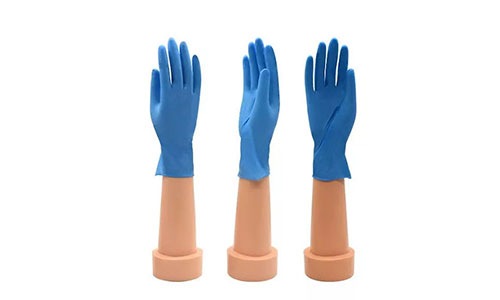 On most days, single-use gloves aren't a need, but they can be an efficient tool to ward off diseases. The Centres for Disease Control and Prevention recommends wearing gloves depending on what the purpose is.
People are free to choose the kind of disposable gloves that has to be worn. Personal protective equipment (PPE) gloves come in a variety of materials; some are ideal for use in chemical laboratories while others are best suited for healthcare professionals. Two of the most popular materials for single-use disposable gloves are nitrile and latex.
When comparing nitrile vs latex gloves, it is noticeable that both have the same primary function. By shielding the user from direct contact with anything they may touch, latex and nitrile gloves protect first aid and healthcare workers from bloodborne diseases. They are thin, stretchy hand coverings. They can stop the transmission of infectious diseases as well as skin rashes brought on by home cleaners and foodborne ailments.
If the job requires working with chemicals of any kind, it's important examining which hand protection is the most resistant to harmful substances. According to tests and ratings, nitrile gloves exceed latex in terms of chemical resistance. This is partly because of the acrylonitrile copolymers that give the substance its protective properties.
If the task at hand necessitates working with water or other liquid substances, both latex and nitrile gloves can be used with confidence. When dealing with wet materials or in other moist conditions, a good hand covering will keep the hands clean and dry. As a result, the cleaning industry, including businesses that offer professional car washes and employ dishwashing staff in restaurants, might benefit greatly from their utilization. When a hand product is advertised as waterproof, it also suggests that other substances like blood and bodily fluids will be kept out.
Without a doubt, nitrile outperforms latex exam gloves provided by quality wholesale latex exam gloves manufacturer in terms of allergy protection. It's not very frequent at all, but some people may experience an allergic reaction to nitrile, which can be brought on by a sensitivity to the rubber accelerators used to make them. Contrarily, latex causes allergies on a far bigger scale. Many people who come into touch with this material experience mild to severe allergic reactions. Latex-free nitrile gloves are safe for use by people with sensitive skin.
The end-user can choose between latex and nitrile gloves based on their differences in the feeling of touch because they are relatively similar in terms of sensitivity. Gloves made of latex have an excellent sense of touch and fit tightly. They have what some people call a "second-skin comfort level." This is why nurses and medical professionals who do surgery have preferred them. The patient's lack of a latex allergy would first need to be determined, which is probably the case.
Gloves made of nitrile are well-fitting and tactilely sensitive. Most medical nitrile examination gloves manufacturer have made considerable strides toward bringing this glove type's sensation of touch up to par with latex, which makes them a fantastic solution for those who need to maintain tactile sensitivity without running the risk of an allergic reaction.
They have been made thinner than they were previously to do this while maintaining their renowned strength and longevity.
Nitrile gloves also simulate a shrink-wrap effect when they mold to the hand as they are exposed to heat, which makes them appealing to people looking for tactile sensitivity and the ability to handle small objects.
When comparing the cost of nitrile vs latex gloves, it is seen that nitrile is typically slightly more expensive. First off, the price is a good indicator of the product's quality. It is the finest hypoallergenic substitute because it is made to be strong, tear-resistant, and extremely chemical-protective. These four features by themselves establish it as a high-quality glove and support the asking price. Nitrile is in high demand due to its dependable protective properties; consequently, this substance has grown more difficult to get.
Although nitrile and latex gloves are both extremely prevalent types of PPE provided by medical glove supplier, there are a few reasons why one may be preferred over the other.
The first is whether anyone is allergic to latex. When used by someone with latex sensitivity, wearing latex gloves might result in a rash, hives, edema, and other side effects. People with latex allergies are safer when using gloves made of "synthetic materials, such as polyvinyl chloride (PVC), nitrile, or polyurethane," according to the FDA.
As a result of their comfort and flexibility, latex gloves are widely used. Conversely, nitrile gloves are more robust and chemical and puncture-resistant. Nitrile gloves may be the more adaptable choice overall.
Which Gloves Are Better Latex or Nitrile: How to Choose?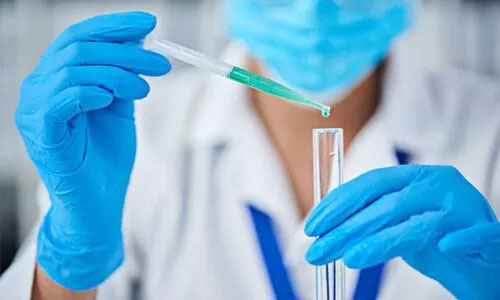 To answer the question, is nitrile better than latex? It is often seen that nitrile gloves are preferable to latex-based gloves. Nitrile gloves are adaptable and can be utilized for a variety of tasks, including food preparation, landscaping, automotive work, and difficult medical procedures.
Furthermore, those who are sensitive to latex or powder can wear nitrile gloves without fear of aggravating their skin conditions. These gloves are a much better option because they provide a higher level of resistance.
But some things are to be kept in mind before choosing nitrile gloves:
When working with chemicals, thicker gloves will offer a longer penetration time and more tear resistance than thinner light-duty nitrile. In general, a better level of dexterity and flexibility lowers the gauge and vice versa.
If a better grip in nitrile gloves is required, search for one with a textured surface on the fingers and palm. The majority of nitrile gloves have a chlorinated finish that reduces stickiness and makes it simpler to put on and take off the hands.
The chlorinated or polymer finish is used on powder-free gloves. Without the fuss of powder, this finish makes it simple to put on and take off the gloves. Although the powdered alternative can leave some residue, it is useful since it absorbs any excess moisture and makes it easier to put on gloves.
A risk assessment should be used while selecting personal protective equipment (PPE) such as medical gloves. The qualities of the gloves are important because they reduce a risk highlighted in the risk assessment. For every circumstance and task, there is a medical glove. Before making a purchase, decide what features are required and review the product's specifications. You can contact MedicalKemei for further information on bulk purchases of various gloves because its all medical gloves have 510(K), ISO, CE, TUV, FDA, SGS certificates.