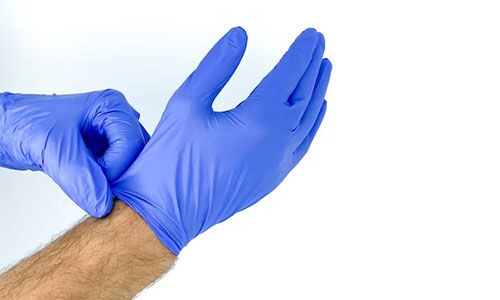 The majority of surgical and medical procedures employ disposable sterile surgical gloves. The various types of surgical gloves stand out because they are free of powder, which can cause issues if it goes into surgical wounds or exposed bodily tissue. When protecting against blood, bodily fluids, or infectious diseases is necessary for high-risk scenarios, they prove to be well-made and efficient.
What Are Surgical Gloves?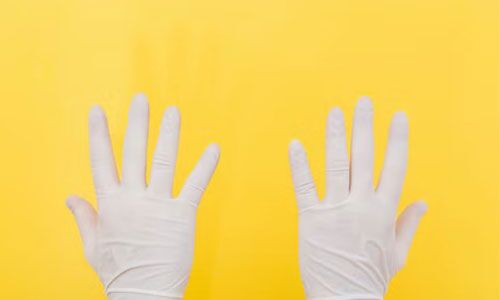 Surgical gloves are medical gloves that act as a line of protection to ward away the transmission of infections between medical personnel and patients during surgical procedures. Surgical glove manufacturers (Best Surgical Gloves Manufacturers In India) are expected to achieve stricter quality criteria. Compared to medical examination gloves, surgical gloves come in a more narrow range of sizes.
Types Of Surgical Gloves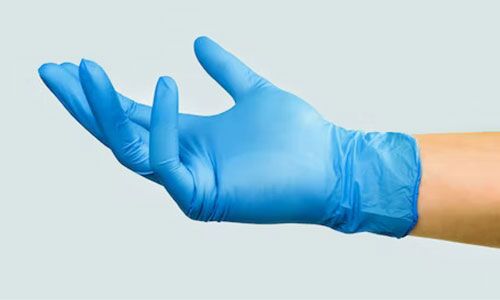 For usage in the medical industry, different surgical glove materials have been created, each of which has certain advantages in terms of comfort, sensitivity, and strength.
Nitrile Surgical Gloves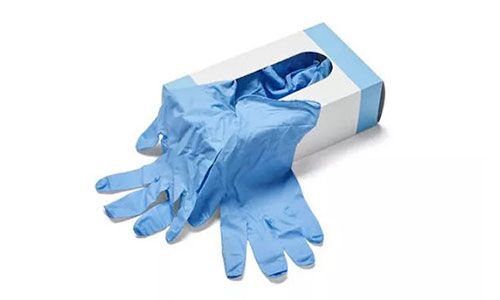 Nitrile is a synthetic rubber composed of butadiene and acrylonitrile. Due to its longevity, strength, and resilience to temperature fluctuations, it is a great material for making surgical gloves, especially for people who are allergic to latex. Due to their exceptional durability and puncture resistance, nitrile gloves are preferred by many surgeons.
Surgical gloves made of nitrile last longer than those made of latex or vinyl(Learn: Vinyl Vs. Nitrile Gloves). Nitrile gloves can be stored more effectively since they last longer. Consequently, this enables hospitals, healthcare facilities, dental offices, and other enterprises that utilize surgical gloves to stockpile PPE, enhancing their economic efficiency. A variety of colors are available for nitrile gloves. Medical facilities may employ orange gloves for non-invasive procedures and blue nitrile gloves for surgery.
Although the color of a glove has no bearing on its efficacy, hospitals may color code personal protective equipment, sometimes known as "PPE," to signify its intended usage. The color blue makes it simple to recognize when a glove breaks and hence is the most preferred glove of doctors.
Polyisoprene Surgical Gloves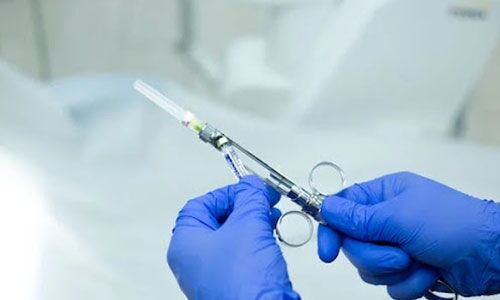 Polyisoprene is a synthetic substance with a molecular structure comparable to that of natural rubber latex. It is a chemical formed through the polymerization of isoprene. Although it lacks the strength and elasticity of rubber, it nonetheless offers the fit, feel, comfort, and performance that surgeons demand from conventional latex gloves.
Surgical gloves made of high-quality polyisoprene provide mechanical protection similar to that provided by natural rubber gloves. Additionally, they are just as comfortable as natural rubber gloves or even more so than other synthetic materials.
Their improved polymer coating makes it easy to wear them with dry and wet hands, and their thickness and design make them enjoyable to double-glove. Additionally, because it is composed of synthetic rubber that is non-latex, users experience a tighter fit that enhances comfort without becoming baggier. They come in separate polybags for the right and left hands, are packaged in a controlled environment, and are compatible with cleanrooms.
Neoprene Surgical Gloves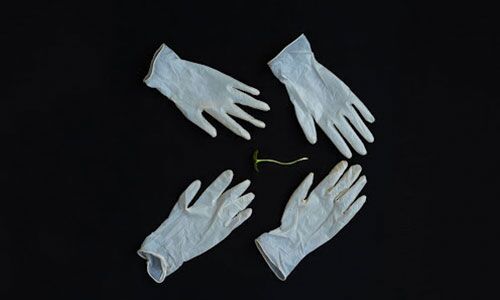 It has dependable strength qualities and is a synthetic powder-free formulation. The majority of nitrile-coated neoprene rubber surgical gloves are produced. These gloves not only have a strong resistance to chemical compounds and alcohol, but also a strong resistance to viral penetration.
But the gloves are significantly less elastic and comfortable than latex gloves, which is a huge disadvantage. Additionally, they cost more than their latex substitutes. Hence. Surgical gloves made of neoprene are not very popular in the gloves market.
What Are The Best Surgical Gloves?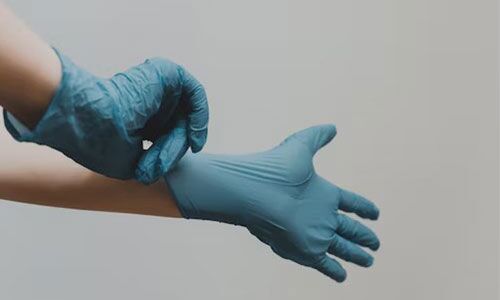 The disposable gloves used by surgeons must be sterilized and come in pairs with individual packages. Surgical gloves are designed to provide the high tensile strength, tactile feel, sensitivity, and accuracy required by surgical teams.
The best surgical gloves have the following features:
Gloves need to be durable enough to be worn the entire time they are being used in a medical environment in order to provide proper protection. Sharp instruments are often utilized during surgical procedures, which puts stress on the glove's material and could potentially lead to a rupture. The best surgical gloves will therefore be thick enough to prevent punctures from needles or other sharp edges while still being thin enough to allow flexibility and ease of movement.
The gloves must be made of any rubber polymer compound, be free of talc on both the inside and exterior surfaces, and have physical characteristics that meet the specifications listed:
Gloves should have long cuffs that extend well above the wrist, ideally to the middle of the forearm.
can tolerate temperatures as high as 70C or numerous autoclaving cycles.
Minimum tensile strength should be18 MPa, and minimum break elongation 700%.
What Are Surgical Gloves Made Of?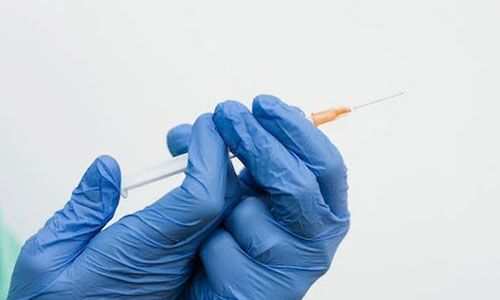 The preferred material for disposable surgical gloves has historically been natural rubber latex. Latex suits a range of glove types and sizes and provides a high level of performance, comfort, and flexibility.
There are several advantages of using latex gloves: The majority of products have a polymer coating that takes the place of the conventional cornstarch powder inside, and they are normally simple for the squad to put on. China latex examination gloves, according to several surgical teams, provide the most comfortable, flexible fit, and high level of sensitivity.
Some surgical teams have switched to using surgical gloves made of the synthetic rubber material nitrile, which provides a latex-free alternative. They have the best resistance to needle sticks and abrasions and are stronger than latex or vinyl.
For those who are allergic to latex, nitrile gloves are frequently utilized as a suitable substitute. These non-latex surgical gloves provide a higher barrier of defense against chemical exposure and can conform to the surgeon's hand for a snug fit. Nitrile gloves have a very long shelf life.
Surgical teams who prefer to double-glove may find it useful that nitrile surgical gloves are also offered in blue and black. Colored gloves make it easier to tell whether a glove has been torn or punctured.
How To Make Surgical Gloves?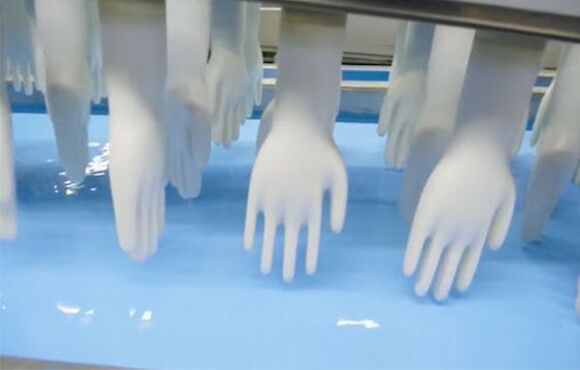 Surgical gloves are produced in basically the same way, regardless of the material. Hand-shaped ceramic or aluminum molds are placed on a conveyor to begin the process. These molds are then submerged in hot water with chlorine or bleach in wash tanks before being dried.
Any potential residue from the earlier batch of gloves is removed during this dipping. To make the rubber stick, the molds must be coated after cleaning. To do this, the molds are submerged in a solution of calcium nitrate, which will cause the rubber to coagulate, and calcium carbonate which is a lubricant to keep the gloves from sticking to the mold too much.
Nitrile gloves are also dipped in a tank of liquid rubber before being baked to form and dry. In order to make gloves easier to put on and take off, they may then undergo chlorination or polymer coating. They become harder and more slippery by the process of chlorination, which involves exposure to chlorine.
In order to lubricate them, they can also be coated with polymers. Since synthetic rubber is stickier than latex, gloves must be removed from the molds after any coatings have been applied. The gloves can then be evaluated.
Surgical Gloves vs Exam Gloves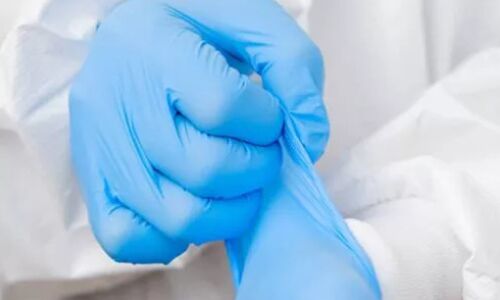 Exam gloves are made from nitrile, vinyl, and latex. In high-risk settings where protection against blood, bodily fluids, or infectious diseases is necessary, they are well-made and efficient.
Exam gloves easily purchased from medical exam gloves wholesale are appropriate for low-risk, routine operations. Surgical gloves are not required during these non-invasive physical examinations or in contexts involving physical health.
Therefore, it is logical that priorities change in surgery. Production requirements and regulations for surgical gloves are more stringent. Several studies, however, suggest that examination-standard gloves are just as effective as surgical gloves in non-surgical operations. Among exam gloves,non sterile nitrile exam gloves are probably the cheaper kind.
Hence in the debate of surgical gloves vs exam gloves, both sides have their own advantages and disadvantages.
FAQs
Can surgical gloves be reused?
Surgical gloves of the disposable kind can under no condition be reused. They are produced to be used once and are hence made of much thinner and less durable materials. There are some reusable gloves in the market that has to be cleaned and sanitized properly after each use. But whatever the answer is can surgical gloves be reused? due to the high cost of maintenance of these kinds of gloves, it is generally advisable to use cost-effective surgical gloves.
What size surgical gloves do I need?
Sizing for surgical gloves is determined by measuring the circumference of the palm in inches, excluding the thumb, just above where it is stitched. Sizes typically vary from 5.5 to 9.0 with a 0.5 increment. Some surgical gloves supplier might additionally provide the size 5.0, which is very useful for female practitioners. So the next time you wonder what size surgical gloves do I need? Simply, contact the local supplier for information.
Where can I buy sterile surgical gloves?
Kemei is a china disposable medical gloves factory, supplier, and manufacturer that offers a variety of OEM surgical gloves, including OEM nitrile examination gloves and sterile surgical gloves. They are a one-stop latex surgical glove factory that creates gloves to customers' specifications and packages them to fit its brand image. It provides medical gloves that are long and wide enough to contain your hand and offer the best protection because it is a reputable manufacturer of surgical gloves. Any dimension that is desired can be included in the glove's design.