Personal Protective Equipment (PPE) is essential in and out of the healthcare setting. PPEs protect us from harmful microorganisms, such as viruses and bacteria, as well as reduce the risk of cross-contamination between patients and healthcare workers.
An isolation gown, also called a surgical gown, or cover gown, is a superior PPE that provides front-end coverage. It's designed to be tied over the head and at the back for secure protection and to enhance comfort.
Isolation gowns offer liquid barrier protection according to their different levels against infectious fluids and solids. These gowns prevent spills, splatters, and soaking from reaching the wearer's clothes or body. In low, medium and high-risk situations, isolation gowns protect the wearer from infectious fluids from penetrating the clothes into the skin.
AAMI set a standard that classifies isolation gowns and other protective drapes used in healthcare facilities into four levels, from level 1 to level 4. This post will discuss the 4 different levels of isolation gowns, how to pick the right level, and how to choose a level gown for your environment.
What Does AAMI Stand for?
AAMI stands for the Association of the Advancement of Medical Instrumentation. Recognized by the FDA, the AAMI standard establishes a classification system for medical gowns, including isolation gowns and surgical gowns, and other protective apparel used in the healthcare industry.
Manufacturers of medical equipment comply with the association's requirements voluntarily. Moreover, medical gowns that follow these standards offer the proper protection when used in suitable conditions.
The classification system of the AAMI is based on the liquid barrier performance of the gown and specifies other standard requirements, such as labeling and testing methods. This standard classifies medical gowns into four levels of protection, enabling users to select products that are appropriate for a specific task or situation.
Four Levels of Protection of Isolation Gown
Isolation gowns are classified into four levels based on the protection they offer against different categories of risks. However, it may not be easy to choose the right product for your task when buying from an isolation gown manufacturer.
The FDA-approved AAMI standard defines test methods and results that determine compliance and confirm the level of protection delivered by an isolation gown. Below, we highlight the standardized four levels of protection of isolation gowns set by AAMI and approved by the FDA:
Level 1 Isolation Gown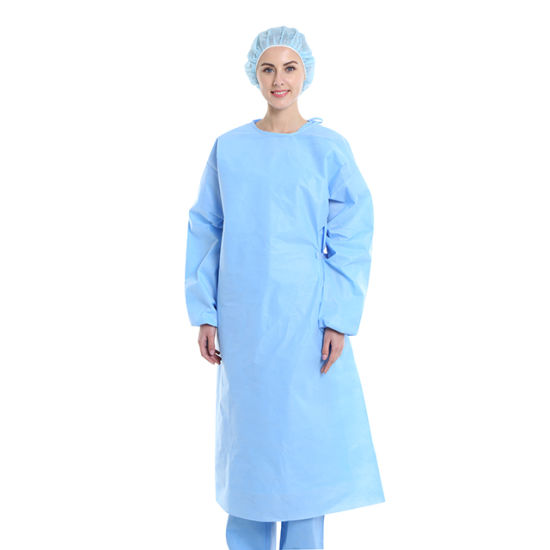 This level of isolation gowns provides a basic level of protection and is used in situations considered 'minimal risk.' They are most suitable to be worn by healthcare workers in basic care activities such as hospice care and care homes, in standard isolation procedures, low-risk wards, or in general hospital situations.
Level 1 medical gowns provide a minimal barrier to fluid penetration but are inappropriate for healthcare workers during blood draws or in intensive care units (ICUs).
Level 2 Isolation Gown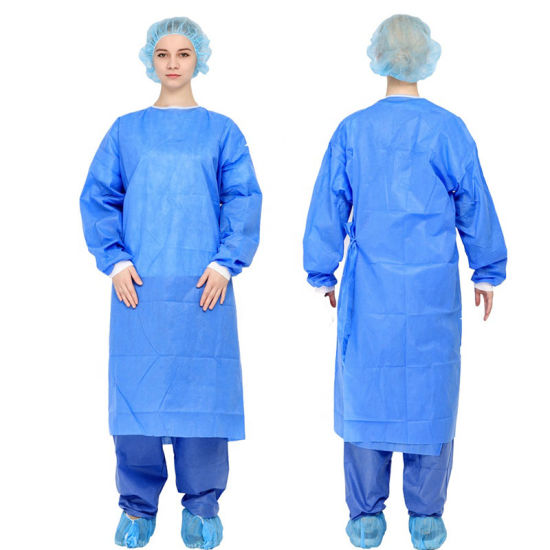 Level 2 isolation gowns are non-sterile gowns supplied by medical gowns factories that are used in low-risk situations. They offer more protection than level 1 gowns and are suitable to be worn by healthcare workers during blood draws, suturing, in ICUs, or in pathology labs.
You can test the barrier performance of level 2 gowns by pressurizing the manufacturing material and adding water to the surface of the gown. They provide a stricter barrier to fluid penetration than level 1 PPE gowns, preventing liquid from splattering and soaking into the wearer's clothes and body.
Level 3 Isolation Gown
Level 3 isolation gowns are sterile gowns best suited for moderate-risk situations, such as during arterial blood draws, inserting intravenous lines, in emergency rooms, or trauma conditions.
AAMI level 3 isolation gowns protect the wearer with a protective barrier against more significant amounts of fluid penetration through splatter and soaking. These gowns prevent fluid exposure more than level 2 PPE gowns and are tested for barrier performance in the same way as the level 2 medical gowns.
Level 4 Isolation Gown
Isolation gowns of level 4 have high sterility and offer the most protection from a PPE gown. They are suitable to be worn by healthcare workers in high-risk procedures, such as during tasking and fluid intense surgeries, when equipment resistance to pathogens is required, or during activities involving non-airborne infectious diseases.
Level 4 gowns prevent large amounts of fluid penetration for long periods and possibly prevent virus penetration for up to 60 minutes. The barrier performance of these gowns is checked using the same testing procedures as level 2 and 3 gowns. But it can also be assessed by subjecting the surface of the gown to a simulated blood-carrying virus. If the virus does not penetrate the gown, the level 4 gown passes the test.
How to Pick the Right Level Isolation Gown
Medical isolation gowns and medical jumpsuits are worn by healthcare professionals during different medical assessments and applied in various activities, from routine patient care to intense surgical procedures. Selecting the right level of gown ensures you get the protection required for your task and ensures the safety of all your staff in different situations.
Consequently, the gown you select will depend on the level of protection needed for the situation or activity. Disposable isolation patient gowns should be used for patients with suspected or confirmed cases of viruses, such as CoronaVirus or Ebola Virus. These non-sterile gowns provide comfort, protection, and are suitable for general healthcare activities and routine patient care.
In circumstances where the risk of fluid exposure is present but minimal, you should use level 1 or level 2 isolation gowns. Staff can wear these gowns when making direct contact with patients, during medical examinations, when providing care, and during several other minimally invasive activities. In the case of a pandemic, these PPE gowns should be worn with other PPE, such as face masks and disposable gloves, from a medical gloves supplier.
For situations that require a high level of protection, you should select level 3 or level 4 isolation gowns. These gowns offer sufficient critical zone coverage, including the sleeves and seams, the chest area, and the front belt attachment point. Level 3 and level 4 gowns, including China disposable surgical gowns, deliver lasting barrier protection for infectious disease control and high-risk procedures where cross-contamination may occur.
Choose the Right Isolation Gown Level According to Your Environment
Having suitable isolation gowns in place during worldwide medical emergencies or situations, such as the global pandemic, is essential to keep your employees, patients, medical professionals, and the environment safe.
When sourcing and choosing the right isolation gown for your environment, you must match the AAMI risk level to the environment to ensure that you choose products that will provide the required protection. Below are the different AAMI levels of gowns and the situations where they should be used.
Level 1 and Level 2 isolation gowns: These are non-sterile gowns that should be used in situations where the risk of bodily fluid exposure and cross-contamination is low.
Level 3 and Level 4 isolation gowns: These sterile gowns should be used in situations with a moderate to high risk of bodily fluid exposure and cross-contamination. Surgical theatres and operating rooms are environments where these isolation gown levels should be used.
Source Bulk AAMI Level Isolation Gown in Kemei
Kemei is a reputable manufacturer and supplier of high-quality PPE gowns and medical coveralls, including AAMI-level isolation gowns. We offer various disposable and reusable options, such as our level 3 disposable isolation gowns and level 2 reusable isolation gowns.
We supply disposable PPE gowns suitable for situations with a low risk of bodily fluid exposure and cross-contamination used during routine patient care. Our level 3 and level 4 gowns are sterile, preventing the spread of infectious diseases. They are perfect for scenarios with a high risk of exposure to body fluids.
While our isolation gowns prioritize sterility and functionality, they also deliver on comfort, as our gowns are not one size fits all. They allow for easy wear and removal. Our reusable gowns are made of 100% polyester, and each level is designed to meet the AAMI standard requirements for up to 25 wash cycles. 
Request a Quote for Level Disposable Isolation Gowns in Bulk Today
You can order any AAMI level isolation gown in bulk for your business or task. Request a quote for small or large quantities at any time of the day on our website, and our representative will respond to you within 24 hours.
Kemei also supplies other essential PPE, such as surgical gloves, disposable bouffant caps, face shields, safety eyewear, and disposable shoe covers, which creates a safe and accident-free workplace for you and your staff.