It is no news how the Coronavirus pandemic held the world to a complete standstill in 2020. It's been years now and even though things have gone back a little to how they used to be, new cases of the virus have not stopped coming up all around the world.
Most of the countries battling this pandemic have set in place several policies to curb the spread of the virus. One of the regulations used to tackle the pandemic was the imposition and mandatory use of face coverings in public spaces.
The most common Personal Protective Equipment (PPE) that people have been using for face covering is the face mask. But for a face covering that offers more protection, then the face shield is perfect.
Various manufacturers of wholesale plastic face shields and its retailers around the world have now recognized and responded to the growing demands of face shields on the worldwide PPE market.
What is Plastic Face Shield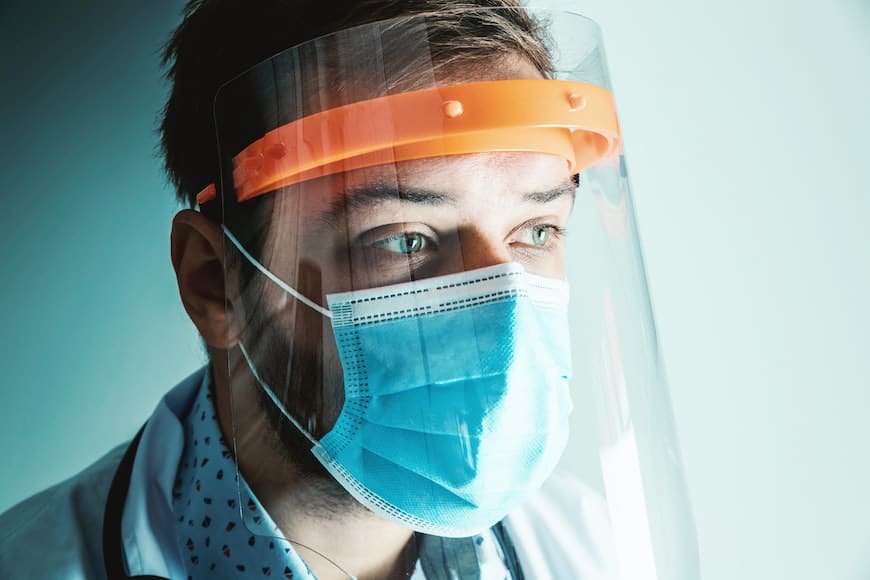 A plastic face shield is a PPE that uses a rounded sheet of plastic to make a see-through barrier between a person and another or a person and an object. The plastic face shield is used to protect the entire face of the wearer from work and environment hazards.
Usually, these simple, rounded sheets of thin plastic coverings are attached to a headband and at times, a pair of protective glasses which gives them leverage to sit well in front of the face.
Plastic face shields protect the face from infectious droplets that form from coughing, sneezing, or even breathing. The plastic face shield can also be referred to as a sneeze guard as it catches every droplet generated from the nose and mouth.
Why Clear Face Shield is Important
The most commonly known way of transmitting virus is by air. Droplets from the mouth and nose are responsible for most viral transmissions.
During the heat of COVID-19 in 2020, a medical report indicated that the best clear face shields are able to reduce people's inhalation exposure to coronavirus and suggested that clinical trials should be carried out on face shields to evaluate them for the virus's control.
Centres for disease control in countries around the world even made it mandatory for face coverings to be used in certain places like airports, hospitals, schools, amongst other public places.
Some of the importance of clear face shields include:
They are the best type of face covering unlike face masks. Clear face shields do not obscure facial features. 
Face shields are the best protection from viral airborne infections. They cover the entire face up to down, side to side without obstructing the view of the wearer.
Face shields are made with plastic so they can be washed, sanitised and reused.
They are lightweight, hence comfort is not compromised.
8 Best Medical Face Shield
We have curated a well researched list of eight of the best medical face shields in the world, and they are as follows.
1. Kemei Medical Face Shield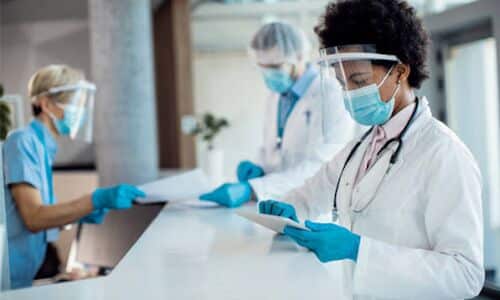 Kemei is one of the world's top medical disposable manufacturing companies and producers of the number one best medical face shields on the market.
Kemei medical face shields are made from strong anti-static coating materials and the best of polymers. The anti-static coating of Kemei face shields allows easy cleaning and also prolonged usage.
Getting your PPEs from Kemei who is also a quality medical gloves supplier is highly recommended as the company makes deliveries to industries, brands, and major distributors globally.
Kemei medical face shields come in sizes, which includes:
320×220mm
320×250mm, and
320×270mm
They comply with National Quality Standards and ISO 13485:2016 quality management system standards, so you can be absolutely sure that you're getting premium products.
Some of the features of Kemei Medical Face Shields are:
Repellent to fluid and exhibit excellent clarity.
Very strong and durable.
Comes with anti fog coating.
Can be used with goggles and masks for maximum protection. It is the best face shield for glasses wearers.
2. OMK Reusable Face Shields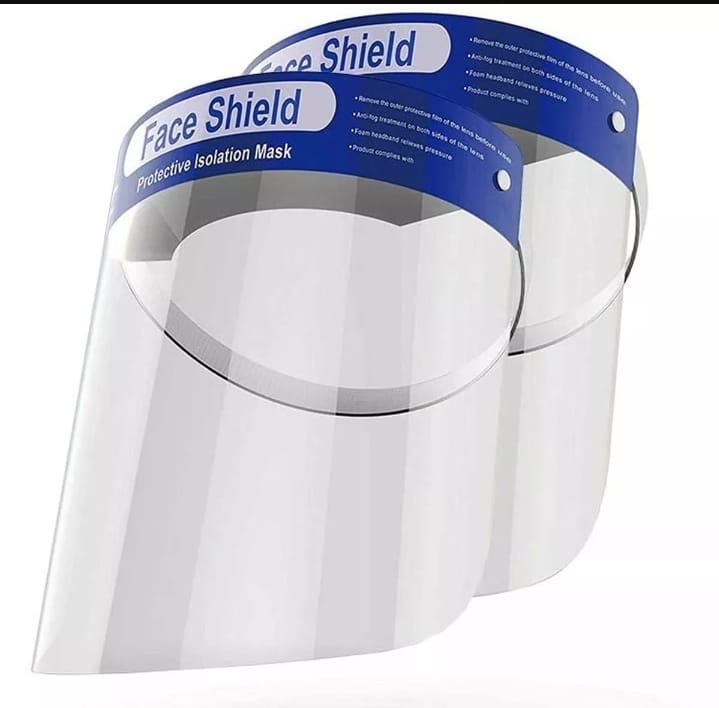 OMK reusable face shields are held in place on the forehead by a sturdy elastic band. It also comes with a sponge barrier which adds some comfort with its cushioning effect. This allows for hours of usage without feeling much discomfort.
OMK face shields are coated with anti-static and anti-fog treatments which offer protection from saliva and virus droplets without obstructing vision. It is one of the best face shields for eyeglass wearers.
This face shield is reusable. It can be used for months continuously as long as it is disinfected properly. One of the reasons the OMK reusable face shield is popular is because it can be worn over goggles and masks.
.
3. Vue Clear Face Shield
The futuristic-looking Vue clear face shield is made from polycarbonate and it offers maximum face protection. This face shield can be used both indoors and outdoors.
The Vue face shield comfortably sits on the face with a frame that is tucked just around the ears to give it a firm grip so it doesn't fall out of position. This face shield can block blue light as it comes with UVA and UVB protection.
It is made from the hardest and most durable kinds of plastic. When you buy a Vue face shield, you get a soft carrying bag that has an anti-fog coating easily making it one of the best anti fog face shields after Kemei medical face shields.
4. NoCry Flip-Up Face Shield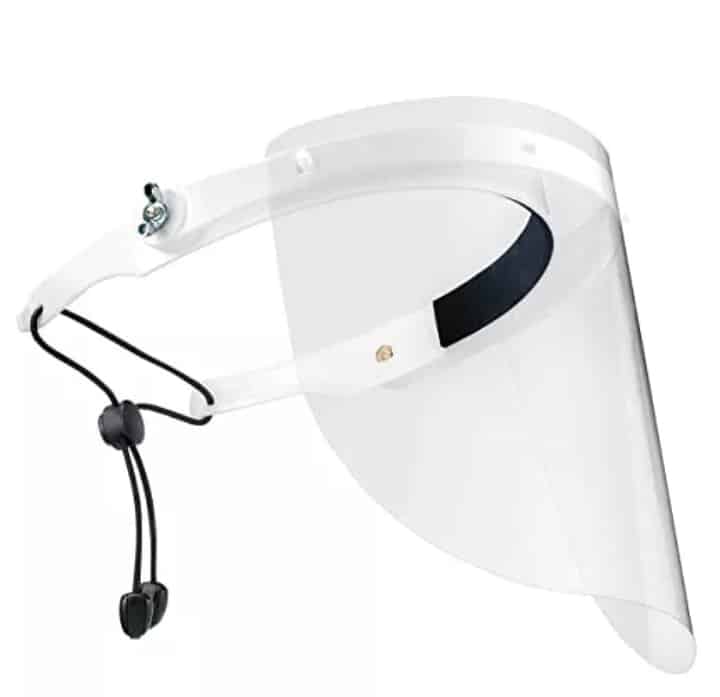 NoCry Flip-Up face shield is undoubtedly one of the best face shields. NoCry is a specialist in the production work and safety gears. Flip-up face shield is top-shelf, easily one of their best products in a while.
This face shield was created for the purpose of protecting users and people around them from the dangers of viral diseases. NoCry Flip-Up face shields are designed to provide comfort and utility to users.
It has anti-slip padding, so that once it comes on, it stays in place. Cleaning the face shield is quite easy as all you need is to spray it with diluted alcohol and wipe with a clean cloth.
5. Astonlink Face Shield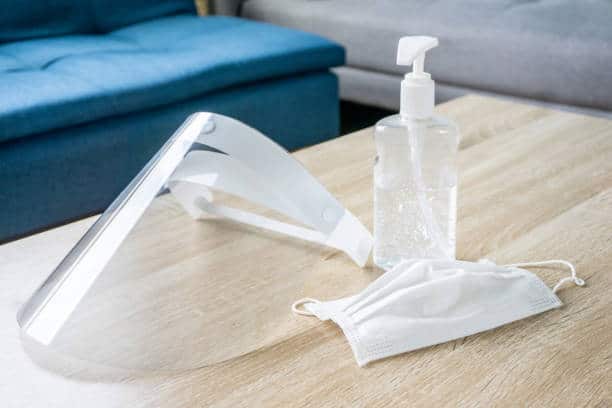 Astonlink face shield has a unique design which can be used together with regular prescription glasses. New sets of Astonlink face shields usually come disassembled with transparent shields.
One good thing about the Astonlink face shield is that you can clean the mask with a dirt-free cloth. If you do otherwise, this might remove the anti fogging component.
6. Noli face shield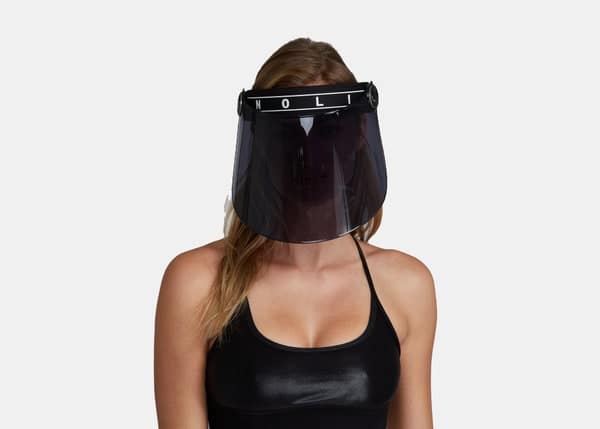 The Noli face shield is as sleek as you can find. This futuristic headband visor is moisture-wicking. Noli helps to protect from the sun using a 35+ ultraviolet protection factor.
The Noli face shield's dark tint gives it an undeniable and beautiful distinct look. The shield is a head turner, it is made with very comfortable safety material—especially because it is tinted.
The Noli face shield fits well and can also be adjusted.
7. Polaroid face shield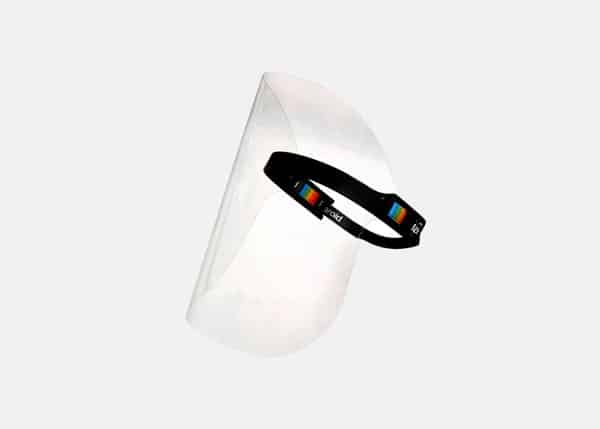 Made by Polaroid lenses, this face shield is a reusable, snap-on cover that has a multi-color band. Both kids and adults can get their sizes in this style.
Polaroid helps to protect people by putting its high quality face shields up for sale. Users are guaranteed of getting value for their money with this face shield. To make storage easy, Polaroid face shield comes with a carrying bag.
8. Sol & Selene face shield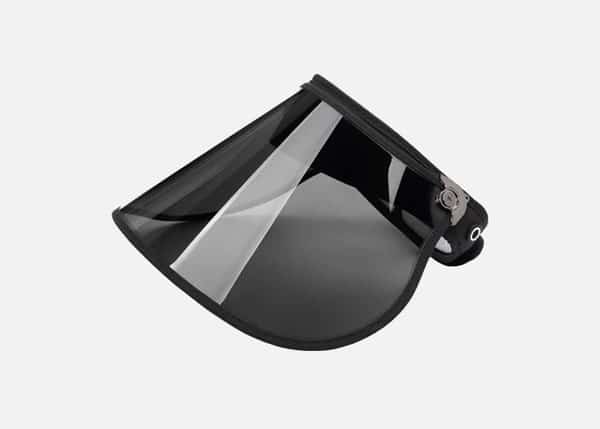 And last one on our list is the Sol & Solene face shield. This durable face shield is typically Ideal for use in the sun or while doing exercises.
Sol & Solene face shield protects its users from ultraviolet (UV) rays. It is equipped with a liner that absorbs sweat just around the forehead band.
The face shield strap comes in basic black, soft pink, and closes with Velcro. This will ensure that the shield remains completely adjustable, and it can be tilted up if you wish to show someone your face.
Conclusion
This blog lists the best medical face shields for your reference. If you are interested in sourcing medical face shields, you'd better cooperate with a certificated factory, like Kemei. Apart from medical face shields, Kemei also manufactures latex surgical gloves, medical gloves and other medical supplies. Contact us to know more details.