While the coronavirus spread rapidly worldwide, Personal Protective Equipment, also known as PPE, has been one of the most common equipment in the medical industry. As the demand for PPE increased, so did the number of medical gown suppliers.
Ever since the beginning of the spread of this virus in early 2020, the medical industry has been tasked to discover the most appropriate products needed to protect health professionals and patients from spreading infections.
Isolation gowns and surgical gowns happen to be part of the most important PPE. While they seem to be alike, they have their differences. Below, you will find the significant differences between them and the factors to consider when selecting them.
What is an Isolation Gown?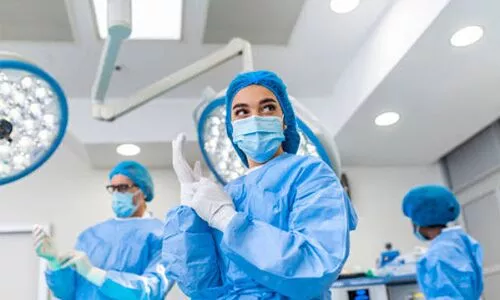 Isolation gowns are Personal Protective Equipment (PPE) worn by healthcare workers during medical activities when they are most likely to come in contact with patient clothing, blood, body fluids, excretions, and secretions.
Isolation gown manufacturers design this equipment to cover the arms, torso, and clothing. They also serve as a barricade against all forms of body fluids and infectious materials.
Isolation gowns serves two significant purposes, which are:
To protect healthcare professionals from contaminants.
To prevent healthcare workers from transferring harmful microorganisms that could be dangerous to patients.
What are the Types of Isolation Gowns
Medical gown factories like Kemei manufacture two major types of isolation gowns which are discussed below.
Non-Surgical Isolation Gowns
These gowns are designed to protect health workers from transferring harmful microorganisms and body fluids in minimal risk patient isolation conditions. It is essential to know that non-surgical dresses are not to be worn during surgical procedures or when there is a high risk of contamination.
A non-surgical isolation gown is expected to cover the most vital parts of the body. Asides from the bindings, and cuffs, all areas are considered critical zones of protection, and it's expected to meet the highest level of liquid barrier protection.
Surgical Isolation gowns
This is mainly used when there is a medium to high risk of contamination. The Food and Drug Administration (FDA) regulates surgical isolation gowns as Class II medical equipment that needs a 510(k) premarket notification.
Like the non-surgical isolation gown, asides from the bindings, and cuffs, all areas are considered critical zones of protection and are expected to meet Association of the Advancement of Medical Instrumentation (AAMI) standards.
Also, the surgical isolation gown should cover the essential body parts appropriately.
What is a Surgical Gown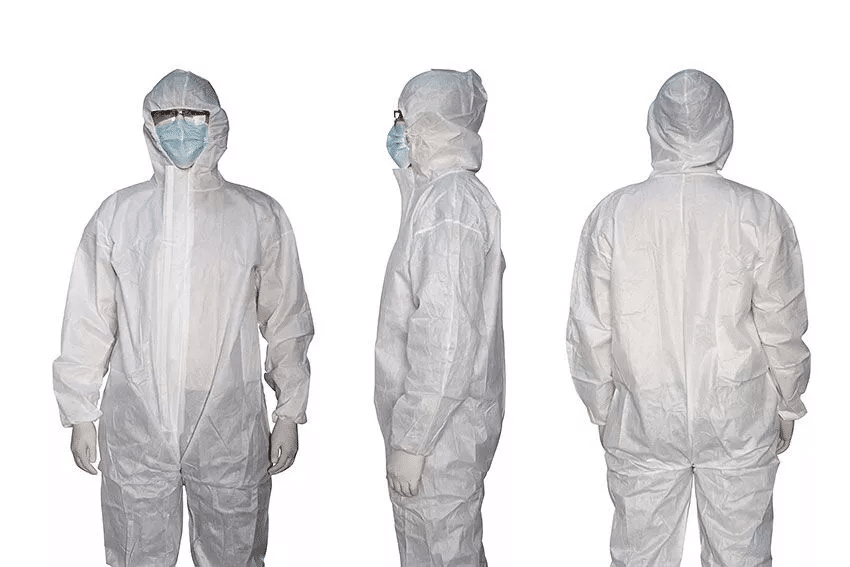 A surgical gown is a piece of personal protective equipment worn by healthcare workers during surgical activities.
The critical zone includes the shoulders to the knees and the wrist cuff to the top of the elbow. All surgical gowns are sterile and usually labeled as surgical gowns.
What Are The Types of Surgical Gowns
Many surgical gown manufacturers differentiate their surgical gowns by strengthening the various parts for specialized medical procedures. For example, a urologist may have his gown reinforced below the elbows and the material below the bust. It is, however, mandatory that the AAMI standards be adhered to. It assists the hospitals in making informed decisions.
Generally, these gowns are categorized into two major types, namely:
Non-reinforced Surgical Gowns
They are flimsy and designed for surgical processes that involve low or moderate fluid contact. They provide the right option for comfort and protection over various medical procedures. All non-reinforced gowns are made from an enhanced Spunbond Meltblown Spunbond (SMS) fabric.
Reinforced Surgical Gowns
They are more durable and fashioned to withstand invasive and intense surgical processes. They are made of high-quality non-woven SMS fabric. The gown is reinforced at the front and sleeves with tough materials that guarantee the protection of surgeons during major surgeries.
Isolation Gown vs. Surgical Gown
1. Critical Protection Zones Difference
Surgical Gowns
The figure below is an example of a surgical gown's critical zones:
Critical zone – front
Critical zone – shoulder
Front
Back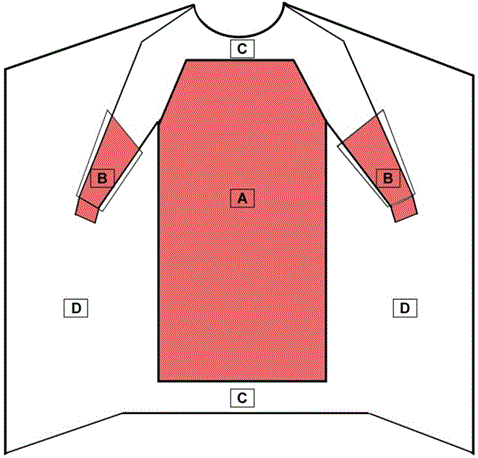 The front of the gown (areas A, B, and C) is required to have a barricade performance of at least level 1.
The critical zone compromises areas A and B.
Area D, the back of the surgical gown may be non-protective.
Isolation Gowns
The figure below is an example of an isolation gown's critical zones:
Critical zone – front
Critical zone- shoulder
Critical zone- back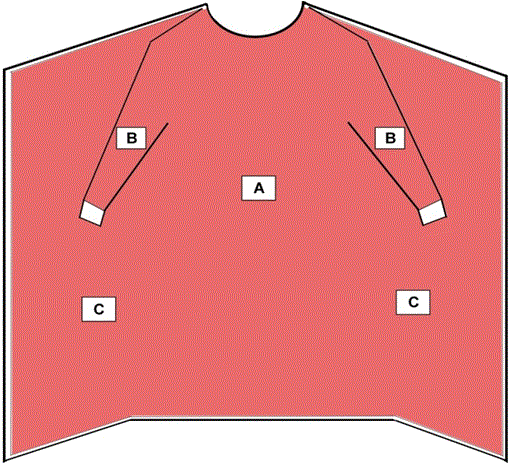 The entire gown (areas A, B, and C), including the seams, should meet at least the minimum level 1 barrier performance, excluding the cuff, hems, and bindings.
Isolation gowns can be used where there is a high risk of infection and a need for more critical zones.
2. Gowns Design Difference
The designs of gowns and disposable medical coveralls are attributed to their barrier performance and fabric properties. The fabric properties are barrier effectiveness, mobility, comfort, flammability, odor, etc.
Isolation gown interfaces are critical for protection, and the areas most susceptible to strike-through are the cuff, forearm, thigh, and abdomen.
Surgical gowns are fabricated to adhere to stringent standards. They are made from synthetic materials and suitable for minor and significant operating procedures. They are always supplied as sterile or non-sterile. The fabrics are open with non-woven tie-strings and Velcro.
3. Level of Protection Standards Difference
Using the word "surgical" or "surgical gown" on any marketing material means that the gown is intended for medical purposes and is therefore labeled a Class 2 device. It requires a premarket notification and is named AAMI level 3 or 4.
Some isolation gowns can be non-rated or rated as AAMI Level 1-4. In contrast, non-rated isolation gowns provide fluid protection that does not have a level rating because of the construction features of the shift. Isolation gowns that carry AAMI Level 3 or 4 labels are considered high-risk devices and need a premarket notification.
According to the AAMI, below are the level of protection standards:
Level 1: Minimal risk, used during primary care, standard isolation, cover gown for visitors, and in a medical unit. They also serve as a slight barrier to a small amount of fluid intrusion.
Level 2: Low risk, used during the blood draw, cutting, in the Intensive Care Unit, or a pathology lab. They can serve as barriers to large quantities of fluid intrusion and fluid exposure through soaking.
Level 3: Moderate risk, used during arterial blood draw in the emergency care unit or trauma cases.
Level 4: High risk, used during intense fluid procedures, surgery, and when resistance to the pathogen is needed. They can prevent liquid intrusion and virus penetration for up to 1 hour.
4. Application Difference
As a prominent surgical gown and medical glove supplier, Kemei provides detailed information that enables you to make informed decisions.
Isolation gowns are worn in cases where there is a medium to high risk of contamination. It is also needed to prevent infections from transmitting to healthcare workers or patients.
Surgical gowns cover any level of risk (levels 1 to 4). It is more needed during surgery to protect patients and health workers from the transmission of fluids or any form of particulate matter.
5. Features Difference
Features of a Surgical Gown
It is FDA recognized as a class 2 medical device.
Suitable for every risk level procedure.
It's always clearly labeled.
The critical zones of protection are based on the front of the body.
Features of an Isolation Gown
The entire gown is a critical zone, aside from the binding, cuffs, and hems.
The materials used to make the critical zones adhere to the highest standard of the gown level.
Not all isolation gowns are suitable for high-risk level procedures.
They are not suitable for invasive procedures.
How to Choose: Isolation Gown vs. Surgical Gown
The Centers for Disease Control (CDC) recommends three significant factors to consider before choosing gowns for healthcare procedures:
Purpose: The gowns can be used either by patients or medical professionals. Patients are expected to use non-sterile isolation gowns, while medical professionals should dress with moderate to high barrier protection (ANSI/AAMI PM70 Level 8 or Level 4).
Materials: Gowns are made majorly from cotton materials. However, these materials are made available in varying degrees of fluid resistance. If you are considering liquid penetration, then select a liquid resistance gown.
Risk Level: Select a clean or sterile gown depending on the risk factor involved. Clean dresses are mainly used for isolation purposes, while sterile gowns help perform invasive procedures.
How to Put on and Take Off Surgical Gown
The difficulty level with which a gown is put on or taken off may affect the efficiency and the potential for contamination.
Put on
Pick the correct type and size.
The opening is at the back.
Fasten at the neck and waist.
In cases where a gown may be too small, it is advisable to use two.
Take off
Loosen the ties.
Pull the gown away from the neck and shoulder.
Turn the contaminated part outside.
Fold the gown into a bundle (the clean part of the gown must be outside).
Dispose.
Conclusion
If you are interested in the differences between isolation gowns and surgical gowns, you could find answers here. Hope this guide could help you select the right medical gowns for your need.